If you feel the need for speed, whether that's through a love of street racing or a passion for taking your car to the race track, you understand the importance of having the right tires. With the wrong tires, your car won't grip the road as well, and handling will be less responsive. However, if you put some of the best street racing tires on your car, you'll be cornering like a pro and feeling all the exhilaration that comes with hurtling around the track! We've selected seven of the top-performing tires that have been pushing the limits on and off the streets this year. From Michelin and Dunlop's steadfast reliability to Toyo and Pirelli's aggressive performance, we've got you covered. Strap in as we take you through the best racing tires of 2023/2024!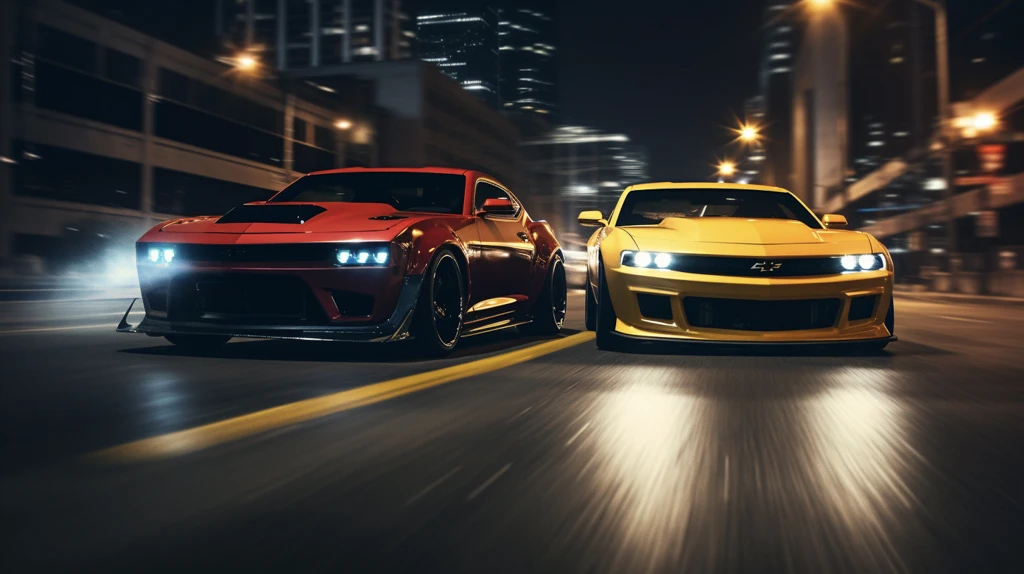 The basics of racing and performance tires
Before we dive into our reviews, let's start with some tire basics. What makes a racing tire different from a regular tire? And what's the difference between street racing tires, track racing tires, and high-performance tires? Comparing any of these racing tires to regular tires, there are a few things to mention.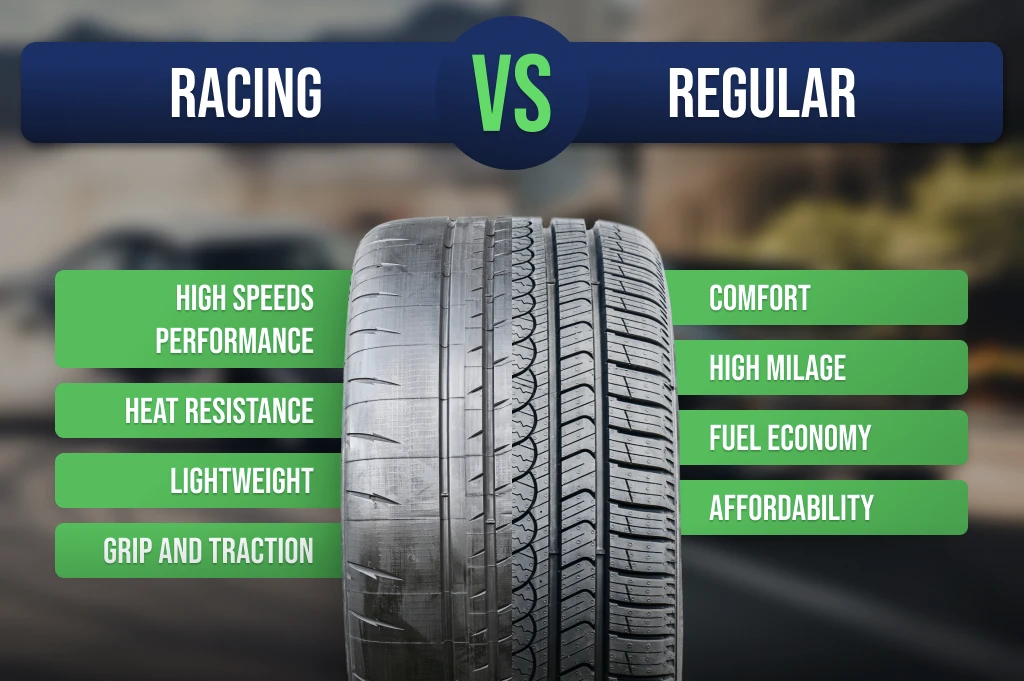 Firstly, any racing tire is designed to achieve maximum performance at high speeds, focusing on things like grip, heat resistance, and tread pattern, while your regular tires might be more focused on higher fuel economy, long-lasting treads, and affordability. So let's look at all these performance and racing tires in more detail.
High-performance tires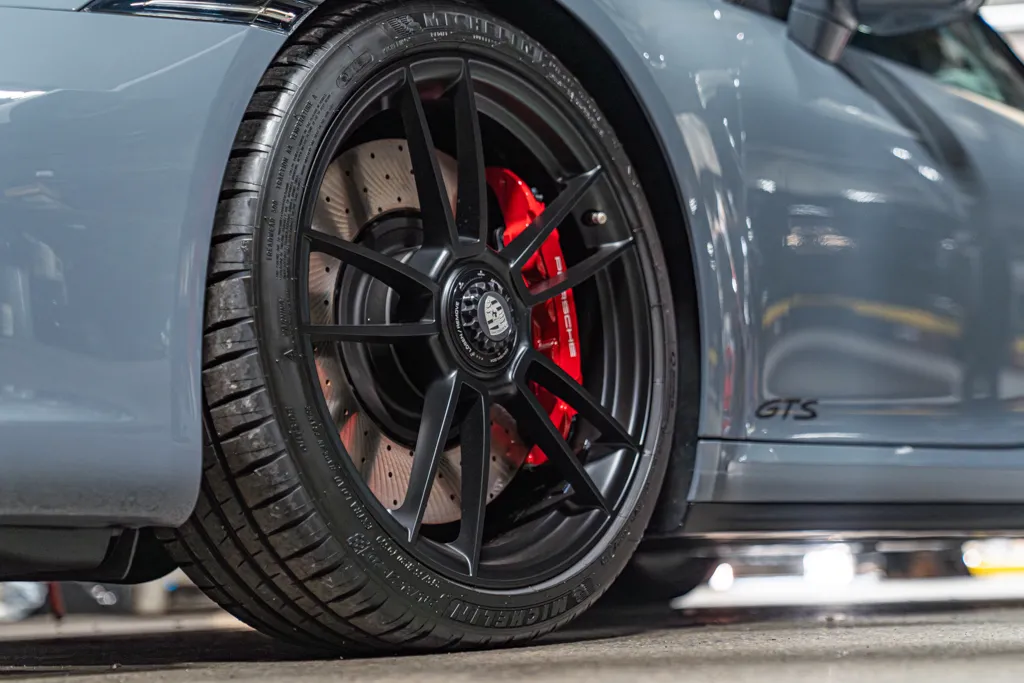 The category of high-performance tires is a broad one that often includes street racing and track racing tires, as well as other types of performance-oriented tires. The key thing about high-performance tires is that they are designed for superior handling and grip compared to regular passenger car tires, especially at higher speeds. High-performance tires are often grouped into ultra-high-performance tires, max-performance tires, and extreme-performance tires, with each offering higher levels of performance (and usually cost) than the last.
Street tires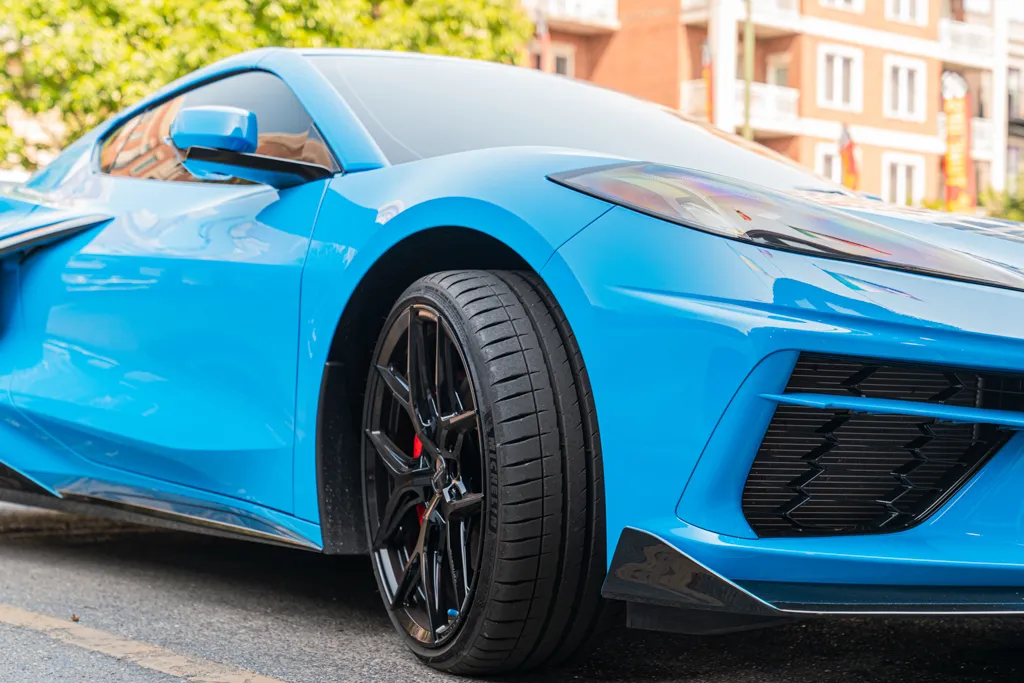 Street racing tires are a type of performance tire that's designed for the highest levels of grip and handling on public roads. They're made with softer rubber compounds for better grip and performance, particularly in dry conditions. However, they're also designed to handle variable weather conditions, including rain, which you might encounter on public roads. This design allows you to brake, accelerate, and corner more precisely and at higher speeds than regular tires. One important thing to note is that street racing tires are designed to be road legal, unlike track racing tires. This means they meet certain standards for tread wear, noise, and other factors so they can be legally used on public roads.
Track tires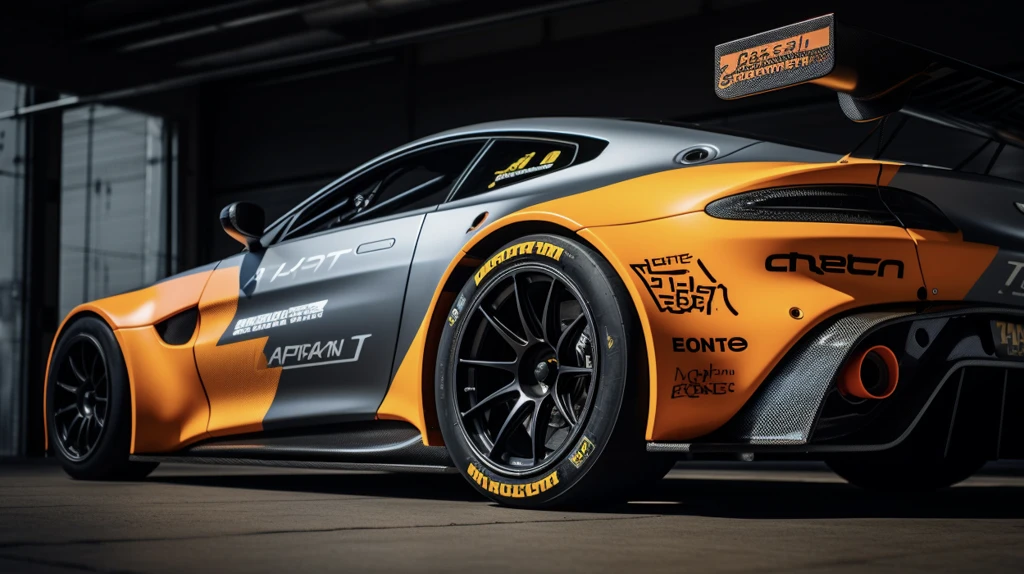 Track racing tires come in two categories: R-compound tires, which are road-legal and racing slicks, which can generally only be used on a racetrack. You'll readily be able to buy R-compound tires from major tire dealers, while slick tires for drag racing and track performance will generally only be available from specialist racing stores.
Slick tires are what you probably think of when you hear the term "race tires." They have a smooth surface, without treads, and are generally much wider than regular tires. They give maximum traction to the powerful race cars, allowing drivers to handle sharp turns at high speeds and brake and accelerate rapidly. Heat resistance is also crucial with these tires. Racing generates a lot of heat, and tires that can't handle it might degrade faster than your race time!
R-compound tires are designed to work well on the race track while also being road-legal. These tires typically have much softer rubber compounds and special tread patterns, which allow for maximum grip on dry, smooth racetrack surfaces. However, this also means that they wear out much faster and are not suitable for regular, everyday driving.
Best tires for racing
So let's look at some of the top street-legal racing tires you can put on your pride and joy.
Michelin Pilot Sport Cup 2 R

Michelin Pilot Sport Cup 2 R is labeled as a "streetable track & competition tire"

If you've been around the block a few times, you'll know Michelin is a name synonymous with quality, and they've pulled out all the stops with the Pilot Sport Cup 2 R. Billed as a "streetable track & competition tire," the Cup 2 R is designed to give you the kind of grip that you see in professional race cars. Its unique compound skirts the line between track gripping and road legal and offers a superb grip on dry surfaces and excellent stability during high-speed cornering.

On the flip side, it's not recommended for wet roads and should never be used in cold weather. Also, this extreme performance comes with a higher price tag. Still, the Pilot Sport Cup 2 R is a tough one to beat for sheer adrenaline-pumping performance.

Price: $520
Category: Street-legal track & competition tire
UTQG: 140 AA
Best for: Performance driving, experienced racers

Yokohama Advan A052

Yokohama Advan A052 can handle wet and dry conditions with aplomb

Next up, let's head to Japan with the Yokohama Advan A052. Look no further if you're searching for a tire that can handle wet and dry conditions with aplomb. The A052 combines a motorsports-derived tread compound with an asymmetric tread design, allowing it to shine in a variety of conditions. It's also got great steering response and stability, so you'll feel in control whether you're on the track or the streets.

However, be prepared for a stiffer ride due to its reinforced sidewalls, and its tread life isn't the longest. But for a jack-of-all-trades racing tire, the A052 is a solid contender.

Price: $380
Category: Extreme performance summer tires
UTQG: 200 AA
Best for: Combination of street tires and track racing, wet weather performance

Yokohama Advan Neova AD09

Yokohama Advan AD09 offers the impressive high-speed performance

Sticking with Yokohama, we move to the Advan AD09. This tire's improved engineering, including a new rigid structure design, gives it impressive high-speed performance. Its tread pattern is optimized for responsiveness and cornering while still giving it excellent water evacuation. This helps it maintain contact with the road in wet conditions, improving wet weather performance over its predecessor, the AD08. The handling is razor-sharp, making it an excellent choice for tight turns and quick maneuvers. As a street tire, the AD09 is quieter and more comfortable than many other street and drag racing tires. However, this tire is generally better suited to the street than the track and doesn't come with any tread life warranty, which you'd hope for at this price point.

Price: $360
Category: Extreme performance summer tires
UTQG: 200 AAA
Best for: Wet weather performance and quiet for a racing tire

Dunlop Direzza DZ03G

The Dunlop Direzza DZ03G has earned its props in many UK championships as a control tire

The Dunlop Direzza DZ03G is a tire that, while it is road-legal, is definitely made for the race track, not the road. This tire has earned its props in many UK championships as a control tire. This tire is very responsive and handles extremely well. It features a choice of two tread compounds, a firmer one for race/track days and a softer one for racing. Its heat dissipation is also impressive, preventing performance drop-off during intense driving. While they handle wet surfaces well for semi-slick tires, you want to avoid standing water as they are prone to aquaplaning. On the downside, this tire is very noisy when used as a street tire. You might also struggle to find it for sale outside of specialist racing tire stores.

Price: $470
Category: Semi-slick race track tire
UTQG: 100
Best for: Track racing in dry and wet conditions

Toyo Proxes R888R

Toyo Proxes R888R is designed to provide exceptional dry traction and grip

Toyo Proxes R888R radial tires take track performance seriously. Built with a high-grip race compound, this tire is designed to provide exceptional dry traction and grip. The aggressive directional tread pattern optimizes handling and performance, giving great directional stability, particularly at high speeds. While this tire is technically D.O.T approved, you wouldn't want to drive it on the road regularly, but it will get you home from the racetrack. All this performance does come with a few compromises. As street tires, road noise is higher than some competitors, and they aren't the best on wet surfaces. But for track days and dry conditions, the R888R is a great choice.

Price: $440
Category: Racetrack & autocross tire
UTQG: 100 AAA
Best for: Racing performance on dry tracks

Nankang NS-2R Sportnex

Our next tire comes from a brand that may not be as well-known as the others but has a reputation for delivering good performance for a great price. The Nankang NS-2R Sportnex is a budget-friendly option that doesn't skimp on performance. Its special rubber compound and optimized tread pattern provide excellent grip in dry conditions. It also handles very well, cornering and accelerating smoothly. While it might not match the extreme performance of some of the pricier options, it offers excellent value for money. On the downside, it's not a recommended tire for wet weather driving and doesn't have the best road noise or comfort levels. But if you're on a budget and still want a solid racing tire, the NS-2R is definitely worth considering.

Price: $145
Category: Extreme performance summer tire
UTQG: 180 AAA
Best for: Affordable track performance

Pirelli P Zero Trofeo R

Pirelli P Zero Trofeo R was developed for track use but is also rated for street use

Last but not least, we have the Pirelli P Zero Trofeo R. This racing champion tire was developed for track use but is also rated for street use, although you probably don't want to do more than drive it home. It's made with an all-new unique soft, and sticky racing compound that offers exceptional grip and handling on the track, making you feel like a professional driver. The redesigned asymmetric tread pattern design also helps improve steering response, providing a precise, connected feel. However, its performance in the wet is not as strong, and like many high-performance tires, it has a noisy ride and shorter tread life. But the P Zero Trofeo R is hard to beat for sheer dry performance and the thrill of driving.

Price: $570
Category: Street-legal track & competition tire
UTQG: 60 AAA
Best for: Passionate track and drag racing enthusiasts
Tire selection Guide
Each of these high-performance tires brings something unique to the table, and their differences can be quite significant.
Our recommendations
If you're after the best all-around performance and don't mind the higher price, the Michelin Pilot Sport Cup 2 R would be our top recommendation. Its exceptional grip, balanced performance in both wet and dry conditions, and high levels of comfort for road driving make it a standout choice for racing and street tires.
The Toyo Proxes R888R and Pirelli P Zero Trofeo R are top contenders for pure track performance and dry grip. However, keep in mind that their ride comfort and wet performance aren't the best, so they're better suited for dedicated track days or dry climates. If you're on a budget, the Nankang NS-2R offers a great balance of performance and price. It won't match the top-tier options in terms of outright performance, but it's a great value pick that still offers competitive handling and a fun ride. In the end, the best tire for you will depend on your specific needs, driving conditions, and budget.
Frequently Asked Questions
What tire brand is the best for racing?

Among the best tire brands for racing, you'll definitely find Pirelli and Michelin. However, finding the "best" racing tire brand for you depends on the type of racing you're doing and your specific needs both on and off the track. However, Michelin is frequently praised for their racing tires, particularly the Michelin Pilot Sport Cup 2 R, which offers exceptional grip and performance for both track and street racing. The Pirelli P Zero Trofeo R is hard to beat for pure track performance. That said, brands like Yokohama and Dunlop also have strong reputations in the racing world, with tires like the Yokohama AD09 and A052 and Dunlop Direzza DZ03G being popular choices among racers. Always remember, the best tire for you will depend on your car, the track conditions, and your personal driving style.
What size tires are best for street racing?

You're generally looking for a wide, low-profile tire when buying street tires for racing. However, the best tire size depends heavily on your specific car's requirements, and you should always check your owner's manual to find out what size of tires you can install safely on your car. That said, wider tires provide better grip and traction, which is crucial in street racing. However, going too wide can negatively impact handling. Similarly, a lower profile tire (shorter sidewall height) can provide better responsiveness and handling but may offer less comfort and be more prone to damage from road imperfections. Also, remember that you need to choose street-legal drag tires if you are going to be street racing. We recommend speaking to a tire professional when choosing the best street tires for racing.
Can you use racing tires on the street?

Yes, most types of racing tires are also street-legal, apart from professional racing slick tires. However, it's important to know that while racing tires are designed to offer exceptional performance on the track, using them on regular streets isn't ideal. Racing tires are constructed with a soft compound to provide maximum grip on racing circuits, but this also means they wear out much faster than other tires when used on public roads. Plus, they're not designed for everyday conditions like wet roads or cold temperatures, and they lack the tread patterns that help regular tires disperse water to prevent hydroplaning. The best tires for drag racing are also likely to give a more uncomfortable and noisy ride than regular street tires, so ideally, you won't use them for anything other than driving to and from the track. So while it might be tempting to enjoy that high-performance tire feel on your daily drive, it's best to save the racing tires for the track.
Which tires are best for performance?

The ultimate performance tires for racing are the Pirelli P Zero Trofeo R and the Toyo Proxes R888R. They offer amazing handling and grip, allowing you to accelerate, corner, and brake like a pro, especially on dry track conditions. However, they are not ideal for road driving. If you are looking for all-around performance tires that you can happily drive on the road, too, then we suggest the Michelin Pilot Sport Cup 2 R. These tires offer a great blend of traction, handling, and durability, whether driving in dry or wet conditions. They're constructed using advanced rubber compounds and innovative tread designs that help maximize grip and control at high speeds.
What tires are NASCAR using?

NASCAR currently uses specially designed tires produced by Goodyear, the exclusive tire supplier for the competition since 1997. In 2022, Goodyear developed a new NASCAR Cup Series tire, created especially for racing and NASCAR. While not available to the general consumer, Goodyear does have an Eagle range of tires for various types of racing, which were inspired by their racing tires.
What tires do street outlaws use?

Street Outlaws racers commonly use specialized drag racing tires designed to provide maximum traction and stability at high speeds. Mickey Thompson drag radials sponsor the Street Outlaw drag racing category in the National Muscle Car Association (NMCA) season, and their tires are regularly seen on drag racing cars. However, the specific brand and type of tire used by drag racers will vary depending on the racer's preference, the specific vehicle they are driving, and the conditions of the track.
Why do racers use slick tires?

Racers use slick tires, which are treadless, to achieve maximum grip on dry racetracks. The lack of grooves or treads on these tires means they have more rubber in contact with the ground, thus increasing friction and providing better traction. This allows the drivers to navigate corners at higher speeds without losing control, which is essential for competitive racing. However, slick tires are not suitable for wet or slippery conditions as they can lead to hydroplaning, which is why racing events use grooved tires when the track is wet. These tires are also not road legal and should only ever be used on the racetrack.