When it comes time to buy a new set of tires for your ride, there are many things to consider, including which brand you opt for. You want to make sure you're getting quality tires from reputable brands, and you definitely want to avoid the worst tire brands around. But did you know that many of the lesser-known tire brands are actually made by some of the biggest names in the tire world? We'll break down the secret world of tire companies for you so you know where you're getting your tires from.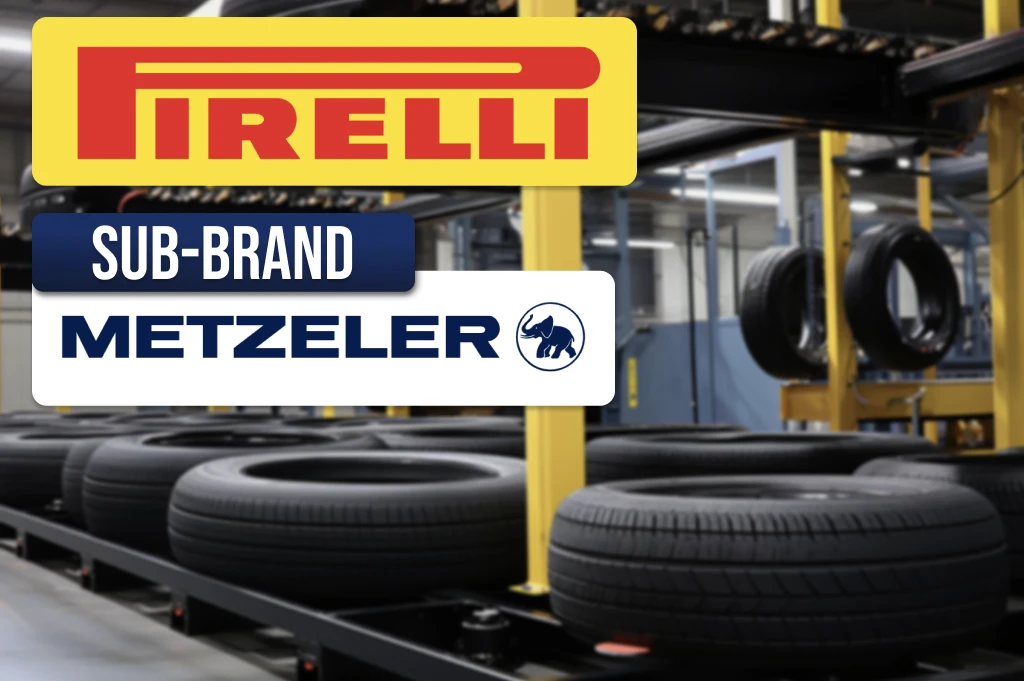 The business model of big tire brands
In the manufacturing world, it's not uncommon for leading companies to have multiple brands under their main umbrella brand. This is a strategy that spans across industries—you've probably heard that Kellogs may have made your supermarket-branded cornflakes!—and the tire industry is no exception. First, let's clear up a common misconception: a second brand doesn't equate to second-rate quality. These tires are often produced using the same equipment, adhering to the same quality systems, and meeting all modern standards. So, why the second brand?
These sub-brands can have many different purposes. Maybe a big tire company bought out another well-known tire company and wants to keep the brand's loyal customers happy, so they keep the old brand operating under their parent company. This is one reason for multiple brands to sit under one company.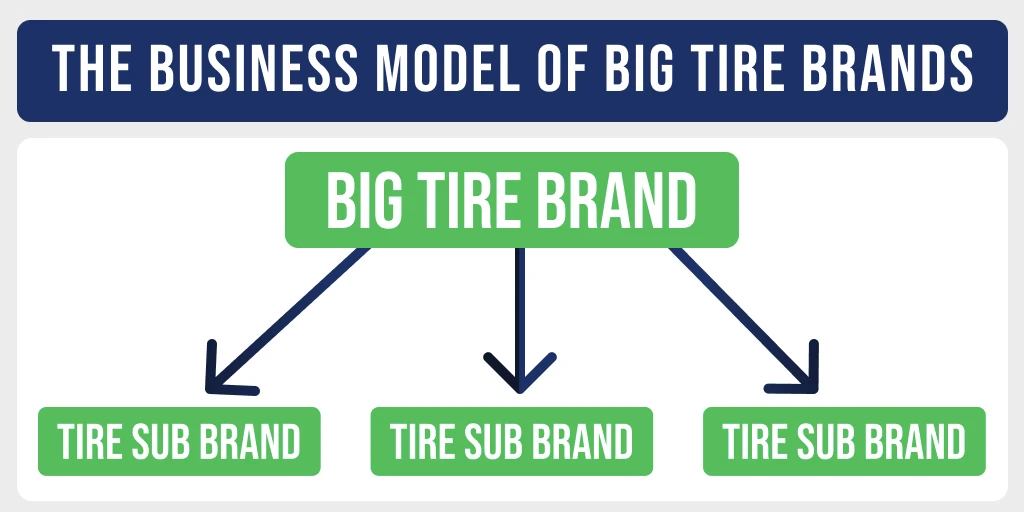 Another reason is to create different brands to suit different customers. Maybe your tire company is known for its premium tires and prices—so you create a brand of cheap tires so you can reach a different group of customers. Alternatively, you might create a special brand for a specific customer base. You could create a sub-brand that specializes in all sorts of adventure tires, from off-road tires to mud-terrain tires. This move allows big brands to offer a range of products to suit different markets.
So, the next time you're shopping for tires, remember that the world of tire manufacturing is more complex than it seems. Big brands might be producing the budget-friendly tires you're considering, and that's a good thing! It means you're getting a quality product backed by years of research and development within your budget.
Big brands and their lesser-known subsidiaries
So let's look into some of those major tire companies and the brands that they own:
Bridgestone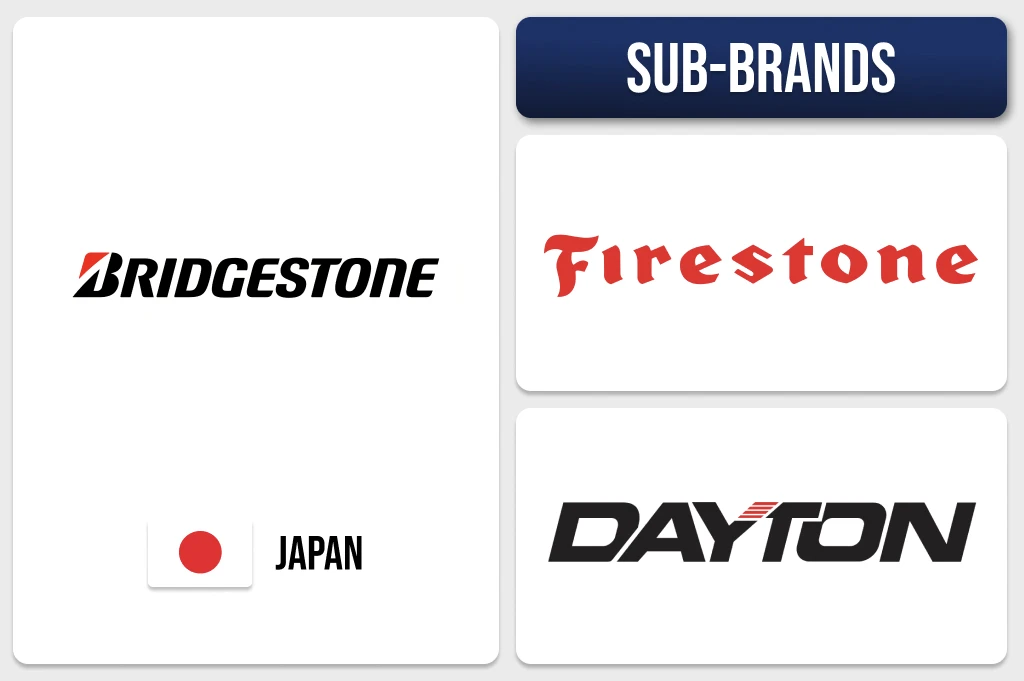 Bridgestone may not sound Japanese, but this company is based in Fukuoka, Japan, and owns the Firestone tire brand. As well as car, truck, and SUV tires, Bridgestone also has sub-brands that specialize in golf cart tires and bicycle tires, bringing their expertise to all sorts of types of rubber! The names under the umbrella brand? You definitely heard about one of them—Firestone!
Continental AG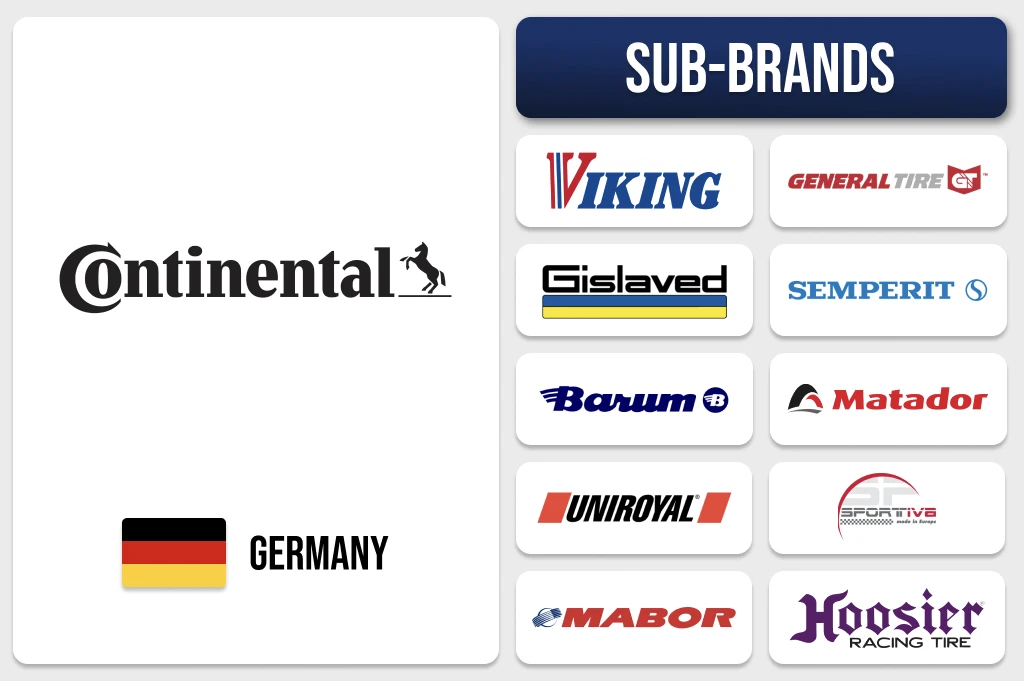 One of the world's largest tire manufacturers, German tire giant, Continental AG, owns a huge number of companies in the automotive space, including a host of tire brands. These brands include Viking, General Tire, Semperit Tyres, Barum, Hoosier, and Matador. Other brands include Uniroyal (Europe), Sportiva, Mabor, and Gislaved. Gislaved is an independent brand specializing in winter tires for passenger cars—Nordic tires, as they like to call them.
Doublestar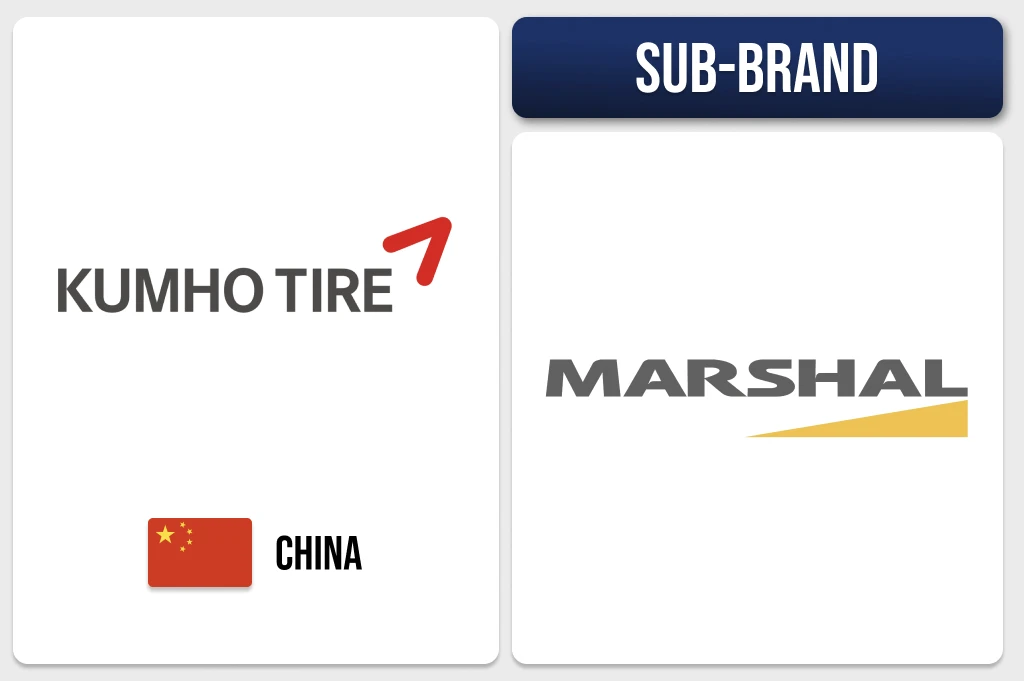 Now here's one you might not have heard of. Doublestar is one of the biggest Chinese tire brands, although they're not so well known outside of China. However, you might have heard of their subsidiary Kumho Tires, a South Korean brand renowned for its high-performance tires. Kumho's extensive range of brands and its commitment to quality and innovation make it a key player in the global tire industry and has helped Doublestar with its international reach. Kumho also has subsidiaries—a brand of affordable tires, Marshal.
Goodyear Tires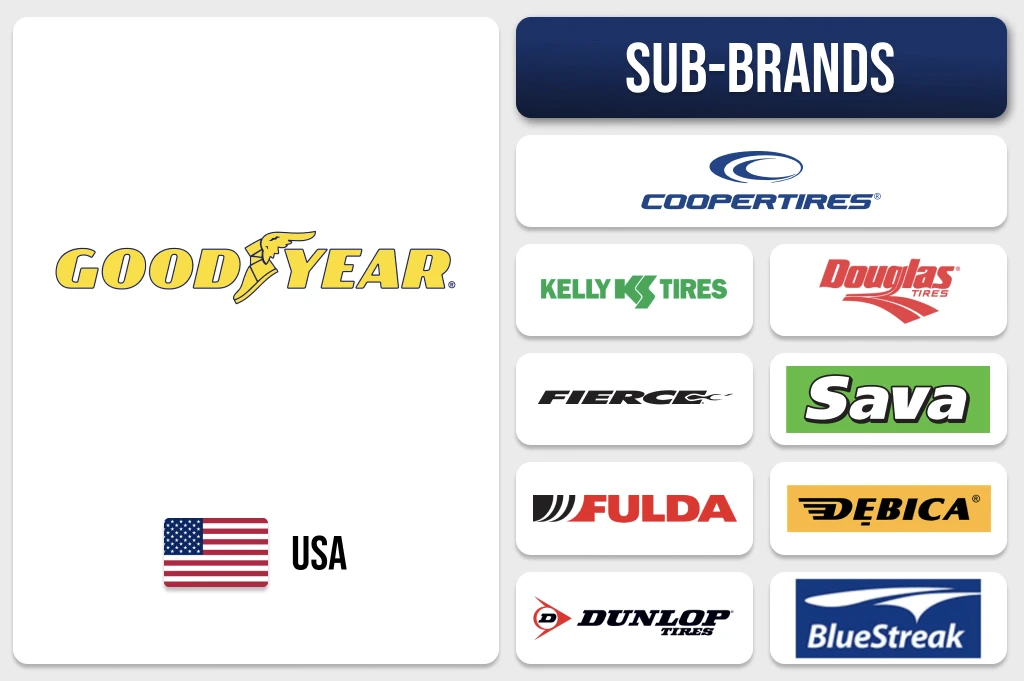 Goodyear Tire & Rubber Company is an American multinational that manufactures tires for a wide range of vehicles, including passenger vehicles, commercial trucks, race cars, and heavy off-road machinery. The company also produces aviation and bicycle tires. Goodyear Tire has a large number of subsidiary companies, including the following tire brands: Cooper Tire & Rubber Co., Dunlop Tyres (in North America, Europe, Australia, and New Zealand), The Kelly Springfield Tire Company (in the United States), Douglas Tires, Fierce, Sava (Slovenia), Fulda (Germany), Dębica (Poland), Bluestreak (Indonesia), and Regatta (Australia). Goodyear, a name that has become almost synonymous with tires, extends its reach through these sub-brands, ensuring that they make a tire that will suit you no matter your budget or needs.
Hankook Tires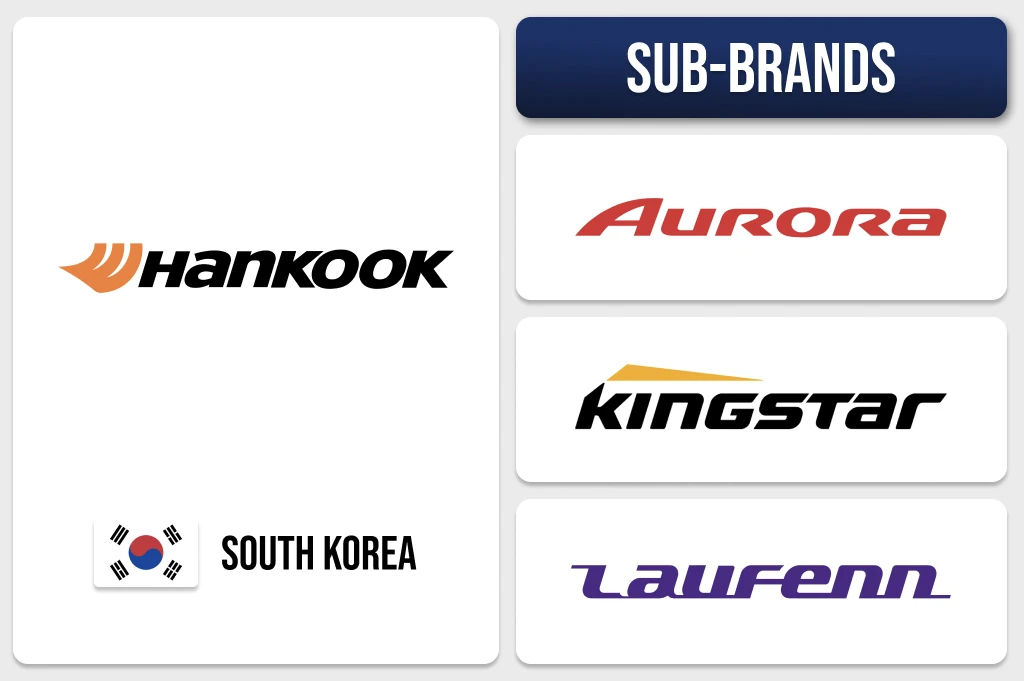 Hankook Tire & Technology Co., Ltd., is a South Korean tire company that was previously called the Chosun Tire Company. Based in Seoul, Hankook is the seventh-largest tire company in the world. The company manufactures tires under a couple of other brands, including Aurora and Kingstar. And it also has a brand dedicated to a specific segment of the market, Laufenn, which focuses on providing value for money without compromising on quality. Hankook's extensive range of brands and its commitment to quality and innovation make it a key player in the global tire industry.
Michelin Group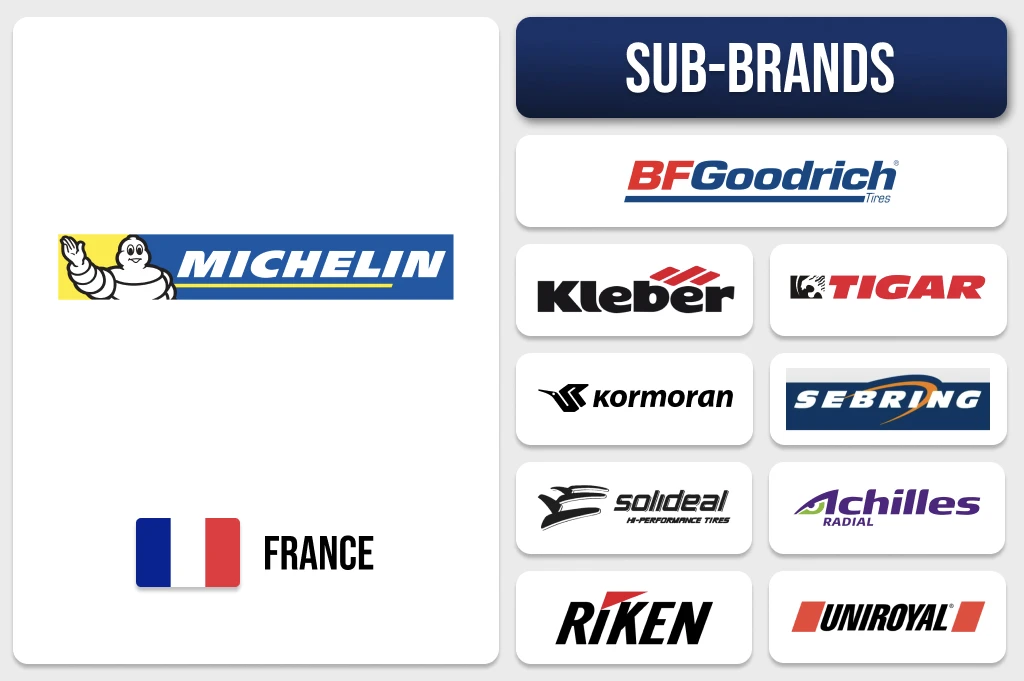 We're sure you've heard of this company! Michelin is a French multinational company and one of the three largest tire manufacturers in the world. As well as the famous Michelin brand, known for its tire quality, the company also owns several other tire brands. These include BFGoodrich, a brand known for its performance and sports car tires, and Uniroyal (North America), a brand that offers a variety of tires for passenger cars, trucks, and SUVs.They also own Kleber, a European brand that offers a range of tires for cars, vans, and agricultural vehicles. Michelin's portfolio also includes Tigar, an affordable tire company. The list doesn't end there—Michelin also owns Riken, Kormoran, Sebring, and Solideal brands.
Nexen Tire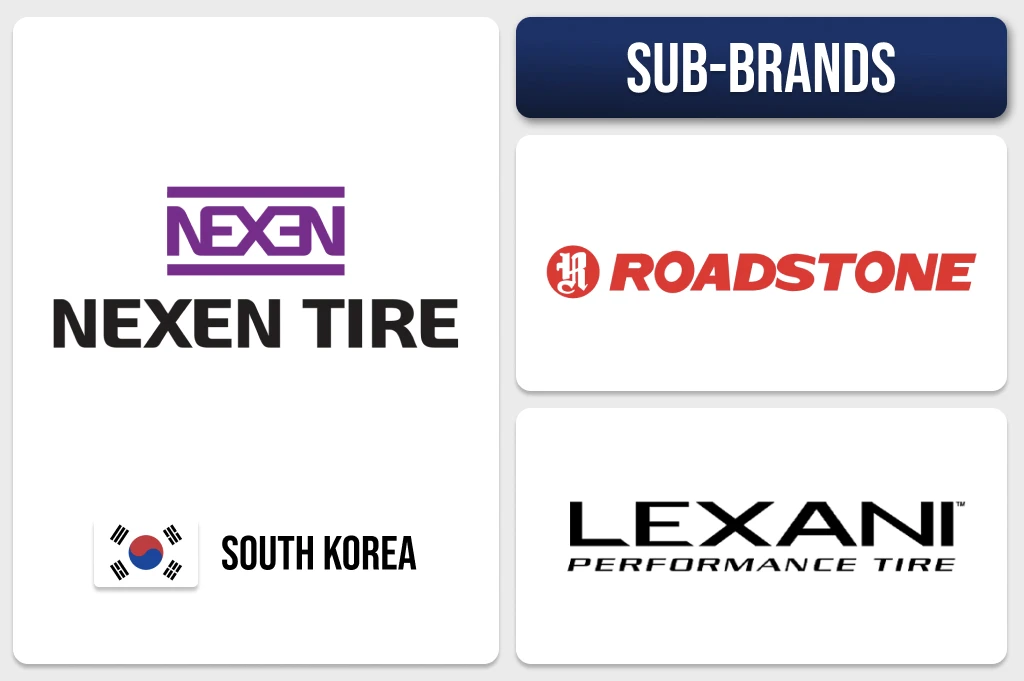 Nexen Tire Corporation is another South Korean tire manufacturer. In addition to the Nexen brand, the company also produces tires under the Roadstone and Lexani brands. This allows Nexen to cater to a wider range of customers, offering quality products at different price points.
Pirelli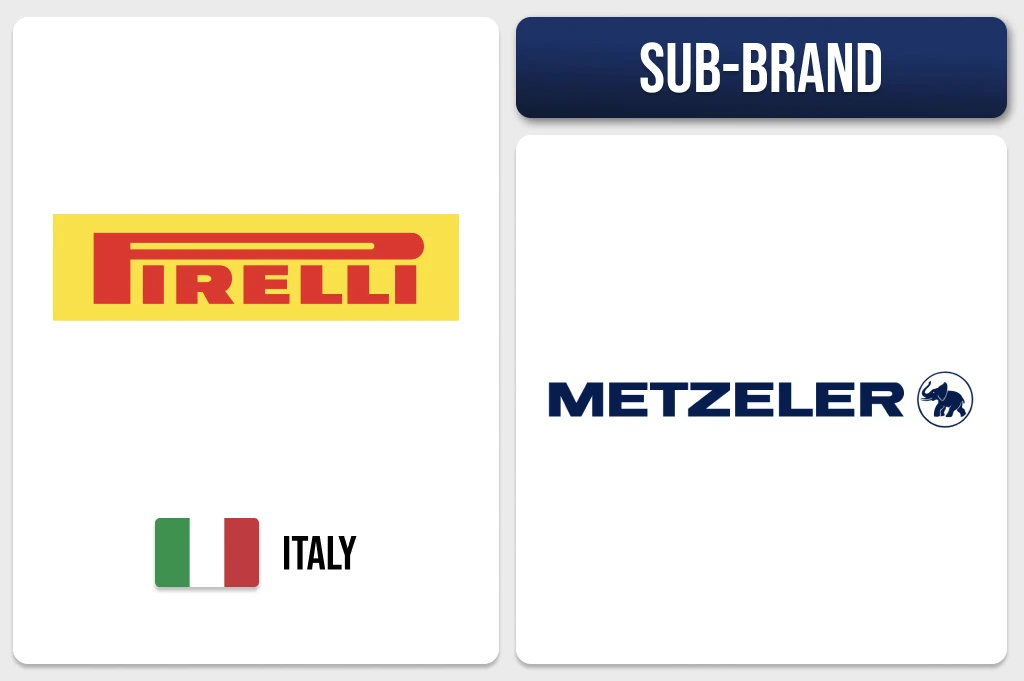 Pirelli is a legendary Italian tire brand focusing on customers in need for speed and style. Pirelli has been the sole tire supplier in Formula One since 2011. Based in Milan, Italy, it's the 6th-largest tire manufacturer globally and is primarily focused on producing tires for cars, motorcycles, and bicycles. Pirelli's tire production ranges from ultra-high performance car tires under the P ZERO family to high-end car tires under the Cinturato family, winter tires under the Sottozero family, SUV tires under the Scorpion family, and summer tires under the Carrier family. As for the subsidiary brands, Pirelli owns Metzeler, which produces vans, SUVs, cross-overs, and a range of bicycle and motorcycle tires.
Sumitomo Rubber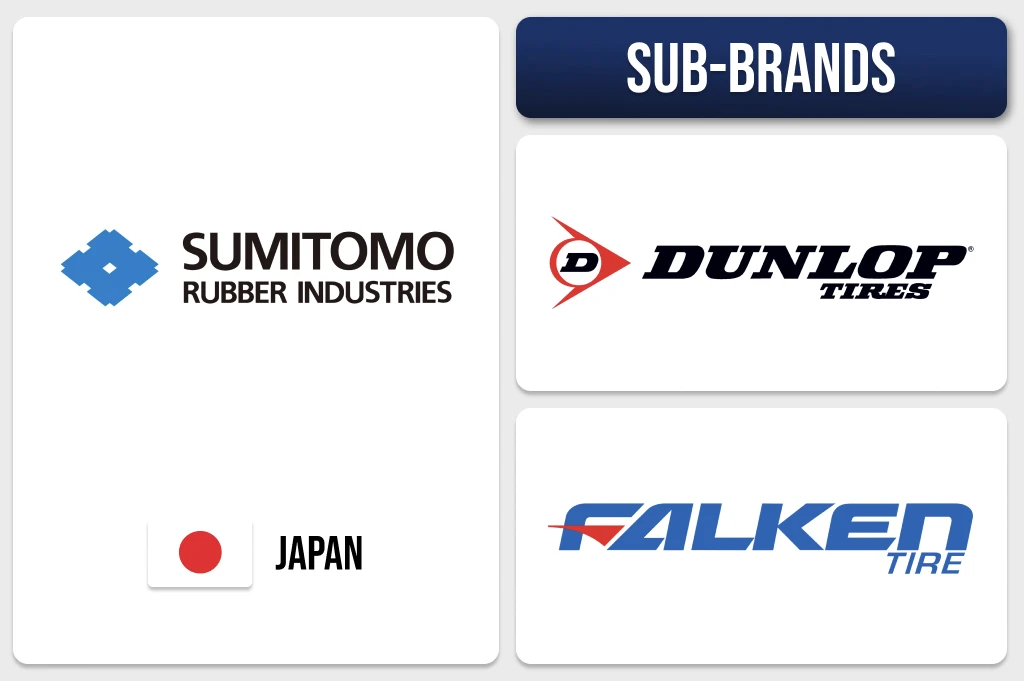 Sumitomo Rubber Industries is a global tire and rubber company based in Kobe, Japan. The company operates a number of subsidiary brands, including Dunlop (in Japan, Latin America, Asia, and Africa) and Falken Tire, which are well-known in the tire industry. Sumitomo's products are sold in over 100 countries worldwide.
Toyo Tires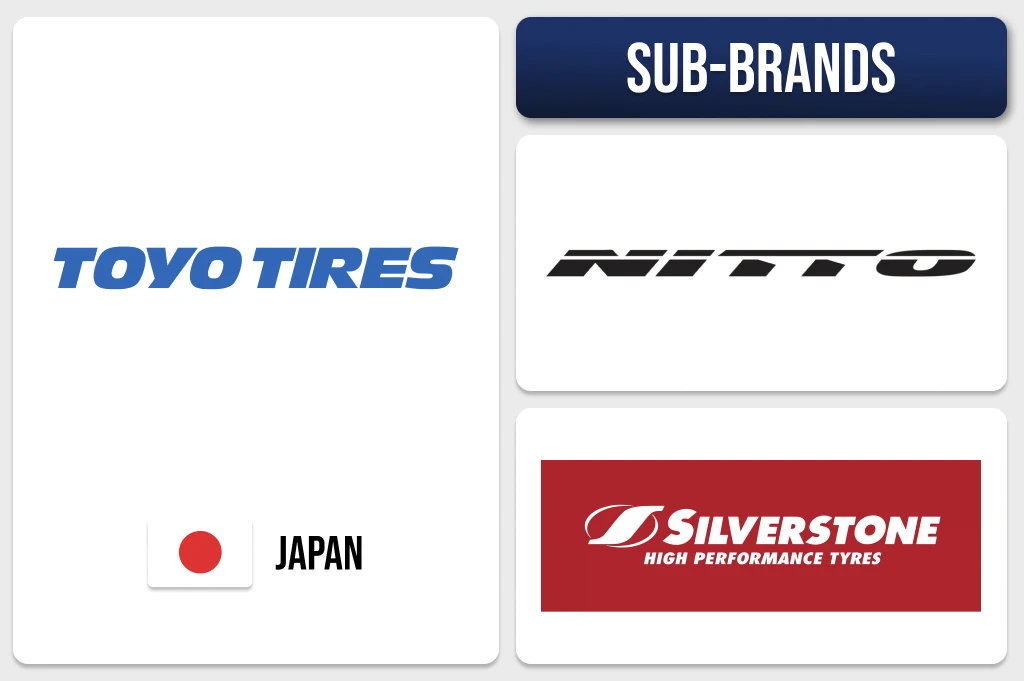 Last but not least, Toyo is another Japanese tire company. As well as Toyo Tires, the company owns the Nitto, makers of SUV, truck, and performance tires, and Silverstone, makers of durable car tires. These brands offer another avenue for motorists to experience the quality and performance that Toyo is known for.
You might notice the same name appearing under several other tire brands—and you'd be right. In some cases, more than one big tire company has the rights to the same brand and makes them for different markets. For example, Dunlop brand tires are made by different top manufacturers (Goodyear in North America and Europe and Sumitomo in Japan, Latin America, Asia, and Africa). This is a common practice in the modern world.
Now, you might be wondering, "Are the sub-brands as good as the big names?" And the answer is, they often are! These sub-brands generally benefit from their parent companies' research, development, and technology. And while they may not use exactly the same proprietary rubber mixtures or manufacturing techniques as with their flagship brands, a large tire company won't risk their reputation by making sub-par tires. So, this means you can often get a fantastic tire for a fraction of the price.
Mythbusting: unheard-of brands and big manufacturers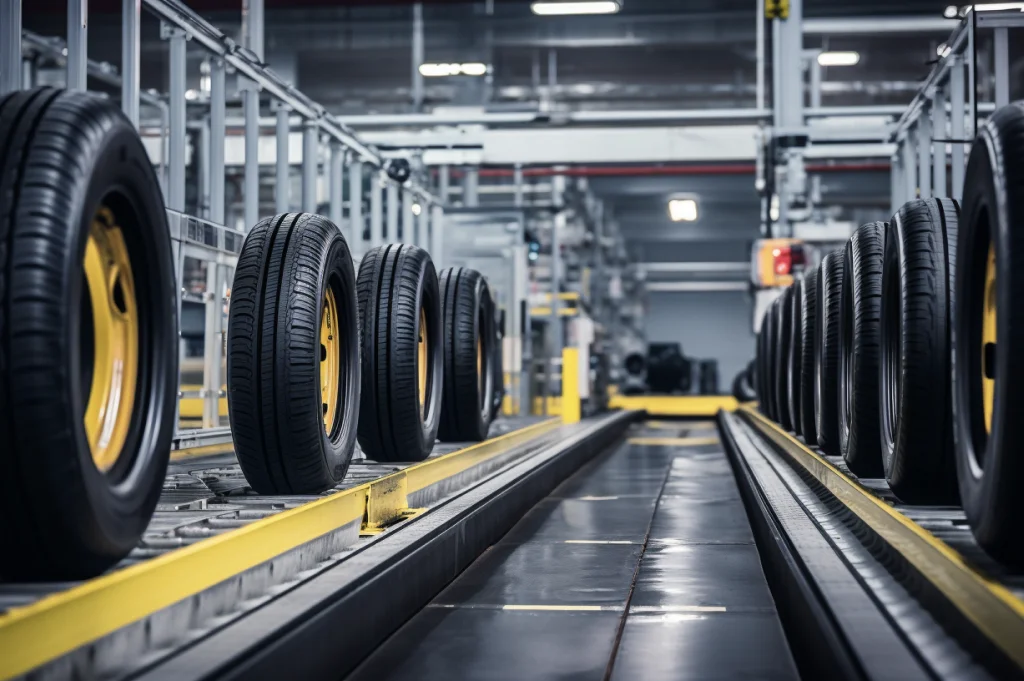 So does this mean if you go to your tire dealers and see a brand name you've never heard of, they might be affordable tires from a big brand? Or if a seller claims that a little-known Asian brand is produced at the Michelin or Continental factory? In these cases, the best thing to do is search for the main brand website and see if they make any mention of the smaller brand—if they don't, steer clear!
No global manufacturer will risk their reputation this way. Tire manufacturers pride themselves on their technologies and materials and keep them in the strictest secrecy. Trust the professionals, and buy tires from reputable sources—if a brand is truly unknown, it's extremely unlikely that a big manufacturer is behind it.
How to identify the manufacturer of your tires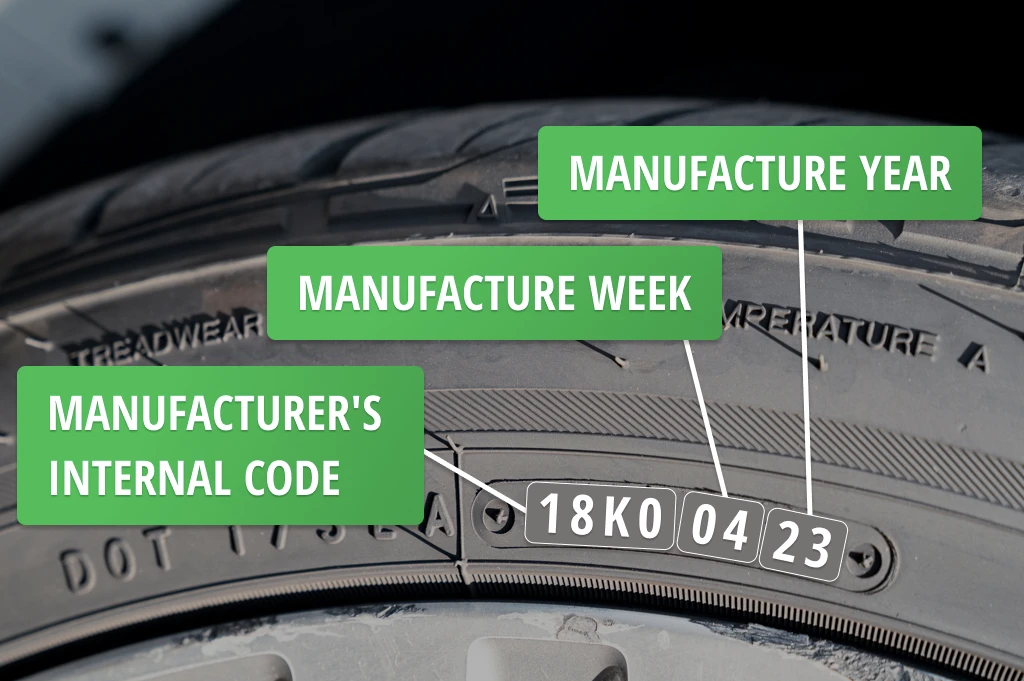 Now, let's equip you with detective skills to learn about your tires.
Check the sidewall: All tire models sold in the US will have a DOT identification number—the last four characters will tell you where and when the tire was made.
Do your research: Open Google and look up the brand. Often, tire companies are pretty open about their sub-brands.
Ask the experts: Talk to your local tire shop—they should know about the tire brands they sell.
Check for quality marks: Look for quality certifications on the tire—and avoid buying tires without them.
Remember, knowing who makes your tires is not just a fun fact—it can help you and your car stay safe on the road.
Frequently Asked Questions
What company is the largest producer of tires?

The world's largest tire producer title actually goes to a company you might not expect—it's LEGO! The toy company LEGO produces the most tires annually, albeit tiny, plastic ones for their toy sets. However, if we're talking about full-sized tires for vehicles, the crown goes to Michelin, who in 2023 was the largest tire manufacturer in the world by revenue.
What other brand tires does Michelin make?

Michelin, the renowned French tire manufacturer, makes a variety of other brands, including BF Goodrich, Uniroyal, and Kormoran, each with its own unique offerings. BFGoodrich is known for its robust off-road tires; Kormoran makes cost-effective solutions for trucks; and Uniroyal is popular in North America for its durable passenger and commercial tires. They also produce Kleber, Tigar Tyres, Sebring, Solideal, and Achilles. With all these other tire brands behind them, it's no surprise that Michelin is the world's biggest tire manufacturer.
What is the best cheap tire brand?

Several brands, including Kumho, Cooper, Falken, Hankook, and General, are recommended when you need cheap tires. When it comes to finding a balance between affordability and quality, one brand that often comes up in conversations is Kumho. This South Korean company offers a range of generally well-regarded tires for their performance and durability, all without breaking the bank.

Another brand to consider is Cooper Tires, an American company known for its good quality, reasonably priced tires. However, remember that the "best" tire can depend on your specific needs, such as the type of vehicle you drive, your driving style, and the typical weather conditions in your area. Always do your research and consider professional reviews and ratings before making a decision.
Is there a big difference between tire brands?

Yes, like with any product, tire brands can have significant differences. These differences can be seen in various aspects, such as the quality of materials used, the technology incorporated into the tire design, the performance characteristics (like handling, fuel efficiency, and wet-weather braking), and the overall durability and lifespan of the tires.

Some brands might excel in creating high-performance tires for sports cars, while others might focus on producing reliable, all-season tires for everyday commuting. When choosing a tire brand, it's always important to consider your specific needs, driving conditions, and budget. Remember, the best tire isn't necessarily the most expensive but fits your needs the best.