If you've ever gone off-roading, or better yet, mudding, then you know just how fun and exciting it can be. But if you try to go out there with regular road tires, you're likely to get a flat tire, get stuck, or worse. Nowadays, many tire manufacturers make specific mud-terrain tires to help us maximize our outdoor fun and performance. Keep on reading to discover some of the best mud tires on the market and what makes each one unique.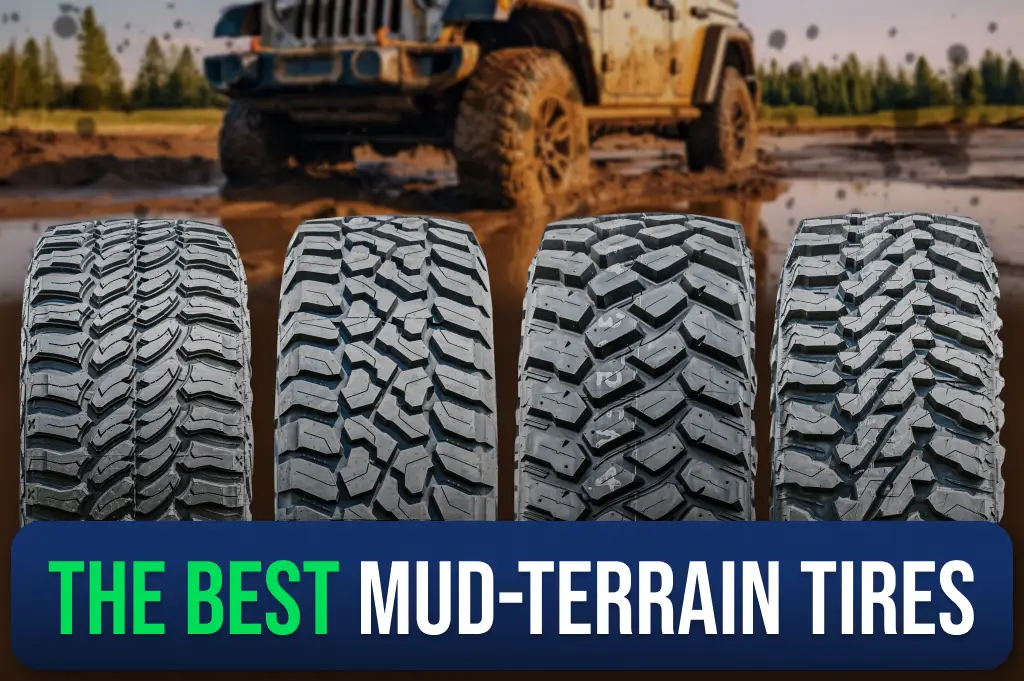 What makes mud tires so special?
Mud-terrain tires should be your go-to off-road tire. Mud terrain tires have several special features, such as massive tread blocks, a tread pattern that extends all the way to the sidewall, puncture resistance, and more. These special features add off-road traction even in deep mud.
Let's examine some of these key features in greater detail so you can understand what you're looking for when you start shopping for the perfect mud tire.
Mud-Terrain tire features to consider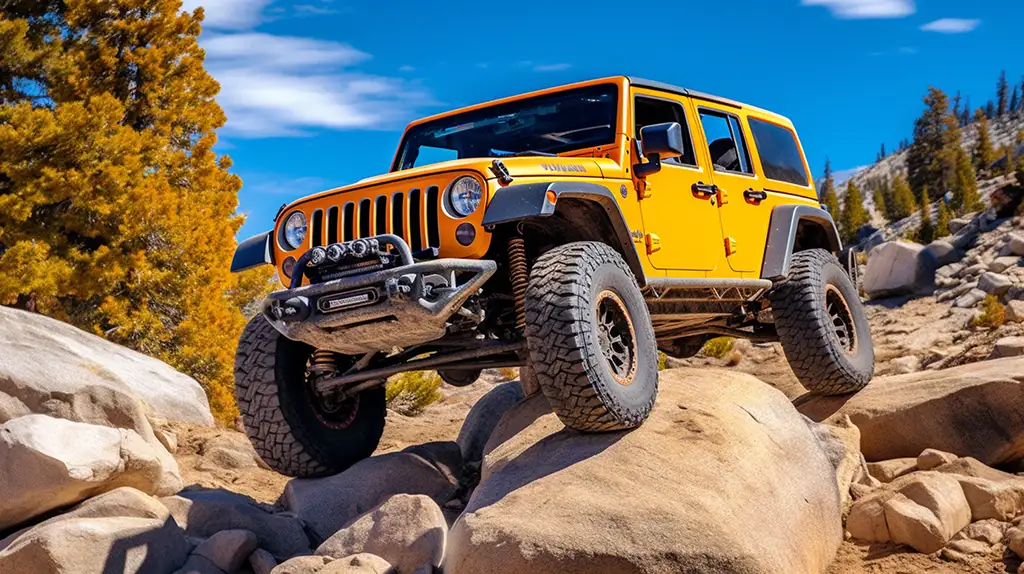 Mud-terrain tires are built to handle mud, but most people don't know they also offer great off-road performance in general and are even great for rock crawling. Mud tires perform well in both dry and wet conditions.
The first thing you will notice about a mud-terrain tire is the large tread blocks and aggressive tread pattern. The individual tread blocks can displace a lot of material which increases traction. Mud-terrain tires also have a great ability to clear out the gaps in their tread design so that debris such as small rocks and compacted mud get removed easily.
Most mud tires have a tread pattern that extends to the shoulder and even beyond the sidewall itself. This helps when driving through particularly deep mud.
Mud-terrain tires are extremely durable, most are built with extra layers to give the sidewall added strength. This makes perfect sense as they need to be more puncture resistant than standard road tires.
Don't let the best tire deals & tips roll by!
Sign up for our newsletter
Limitations of mud-terrain tires
As great as their mud and off-road performance, mud tires usually don't do so well on roads or highways. The same things that make mud-terrain tires good as off-road tires are exactly what makes them a poor choice for extended road driving, especially at high speeds.
Noise levels: Due to the extremely aggressive design, tire noise will be a significant factor with your average mud-terrain tire, especially at high speeds. However, there are some specific tires that stack up better than others in this capacity (more on that later).
Tread wear: Mud tires are made with a softer rubber compound which means excessive road driving will wear down the treads very quickly.
Snow performance: Many drivers believe that good mud performance must also mean good snow performance, but this is actually not quite true. Many mud-terrain tires have few or no sipes (small slits in the tread lugs) which mean they will struggle in deep snow. If you plan to use your mud-terrain tires as winter tires, check the manufacturer's recommendations.
How do mud tires stack up against all-terrain tires?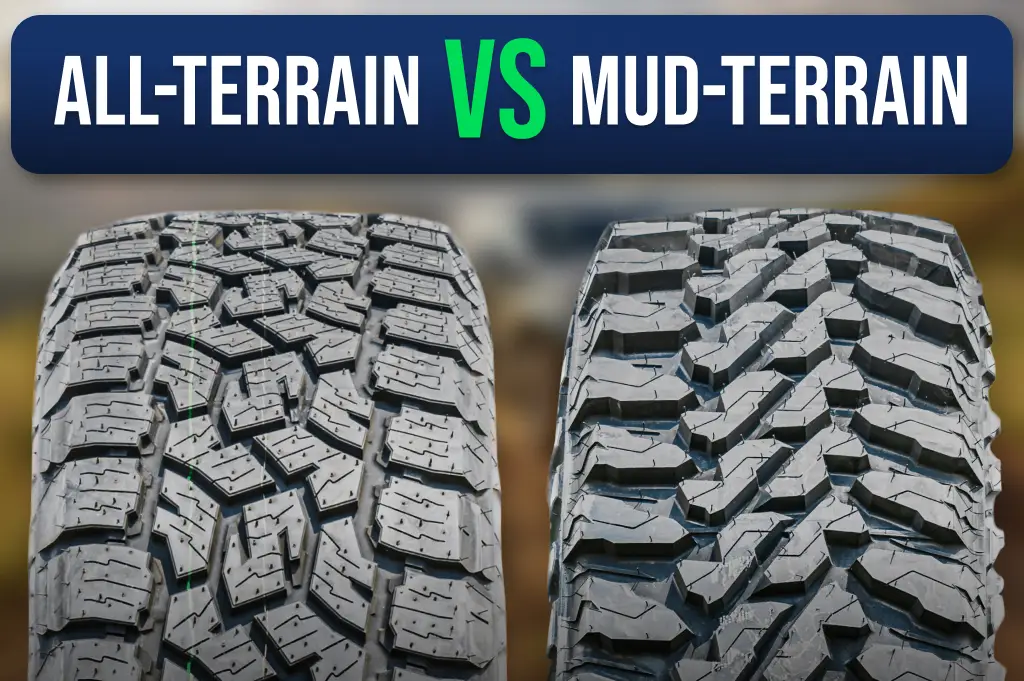 Generally speaking, all-terrain tires offer a good balance between off-road and on-road performance. These are for drivers that do most of their driving on roads but may occasionally have to deal with mild to moderate off-road conditions such as gravel, dirt, etc. However, they have significantly better off-road performance than conventional tires.
Mud-terrain tires are mostly off-road tires. While they can handle short trips on pavement, they don't offer the smoothest or quietest ride. However, their tread design allows them to handle serious off-road conditions such as deeper mud patches, rocky terrain, steep inclines, and more.
Top mud terrain tires for trucks and SUVs
BFGoodrich Mud-Terrain T/A KM3

Advanced Krawl-TEK compound allows for greater traction on rock and slick surfaces
Terrain-Attack tread design delivers incredible grip
Tougher sidewalls to prevent punctures and damage
Moderate on-road performance and "acceptable" noise levels


Toyo Open Country M/T

Tough construction for durable tires and puncture resistance
Hook-shaped tread blocks for increased grip
Extensive siping for performance in wet conditions
Sidewall tread for help in deep mud and water


Yokohama Geolandar X-MT

Extra long tread life due to its triple polymer tread compound
High void-to-lug ratio for greater traction
Incredibly durable thanks to its GEO-SHIELD technology
Offers a fairly quiet ride on roads and highways


Mickey Thompson Baja Claw TTC

Power Ply XD makes tires 50% more resistant to punctures
Excellent off-road traction due to split center rib
"Mud pockets" to stop mud and debris from getting caught in the voids


Pro Comp Xtreme MT2

Three-ply sidewall for extra strength and puncture resistance
Siping built into the lugs to increase grip on rocks and in mud
The tread pattern extends to the sidewall for sidewall protection and durability


Hankook Dynapro MT2

Mud and stone ejectors built into the voids
Large shoulder blocks for protection and excellent traction
Good on-road performance and mileage


Cooper Discoverer STT Pro

Rock Climber Sidewall technology helps with rock crawling and slick surfaces
Stone Armor technology for puncture resistance durability
One-of-a-kind rubber compound for excellent dry and wet performance

Firestone Destination M/T2

Mud and stone ejector design
Three-ply sidewall for puncture and damage resistance
Aggressive upper tire tread lugs for amazing mud performance
Moderate siping for increased traction
Go off-road prepared
Driving through thick mud, water, rocks, or any off-road terrain requires some specialized equipment. Your average vehicle with low ground clearance and regular road tires is going to run into some serious trouble once it gets off-road.
Before you go off-roading, ensure you have the right vehicle, such as a truck or SUV. You want to make sure that you have plenty of ground clearance so that you don't become stuck. Also, make sure you are equipped with some type of mud tire so that your vehicle can handle the extreme conditions.
It's also best to take safety precautions such as driving carefully, going with friends, and letting people know where you're going and when you plan to return.
How long are mud tires good for?
This is a tough question to answer because it depends on what kind of conditions you are exposing the tires to. However, if you properly maintain them by getting your tires balanced, rotated, aligned, etc. then it's possible that they can last up to 40,000 miles.
How to pick the best mud-terrain tires for your vehicle?
First, determine which terrain you'll most often be using them on. Certain tires are better for muddy, wet conditions, and others are better for dry, rocky conditions. If you plan to do most of your driving on roads, with only some moderate dirt road driving, then it's possible that all-terrain tires might be a better option for you.
Secondly, find a set of mud-terrain tires that fit your budget. It's no secret that mud-terrain tires can be quite expensive, with some of them costing over $400 per tire. So make sure you can find decent performance for your budget.
Thirdly, think about the size of the tire you might need. Typically, mud-terrain tires come in 33″, 35″, and 37″. Each different size comes with its own advantages and disadvantages, and typically 35″ and 37″ tires will require some modifications to your vehicle. Make sure to consult with a specialist before buying or installing larger tires.

Frequently Asked Questions
Do mud terrain tires work well in the snow?

The short answer to this is no, they do not work well in the snow. This is for several reasons:

1) The large voids and gaps in between tread lugs will become stuffed with snow, effectively making the tread of the tire one slick surface.

2) Winter tires are usually made with a specific rubber compound that keeps them flexible in freezing conditions, most mud tires don't have this compound, and the rubber will become hard and brittle in the cold.

3) Mud-terrain tires lack sipes or have very few sipes compared to winter tires, which are designed to give extra traction on ice.

However, there are some mud-terrain tires that are made to handle wintery conditions. Look for tires with the three-peak mountain snowflake symbol whenever you're shopping for winter tires.
Can a puncture in a mud-terrain tire be repaired?

Yes, you can repair a puncture in a mud tire just like any other tire. But just like any other tire, there are some exceptions to this. If there is a puncture on the sidewall of the tire, then it is not repairable as the tire's structural integrity is gone. Also, if a puncture is too large or the tire has been repaired too many times already, it may be impossible to repair. If you're unsure, then check with a tire specialist.
Is it legal to take mud-terrain tires on the highway?

Yes, absolutely. You can drive on roads and highways with mud-terrain tires just like any other tire. While it is completely legal, it is not recommended as the road will wear down the tread pattern quickly, and the tires generally don't provide a smooth or quiet ride.