Are you about to go on a long road trip? Yes, we know—it can be both exciting and overwhelming! No matter what the final destination is, you have to be really prepared to get there safe and sound. Before you hit the open road, read this article. The GoTire wanderlust crew covered everything—from planning your route and ensuring your vehicle is in tip-top shape to packing the necessary items and entertainment on the way. Buckle up, rev your engines, and have a great journey!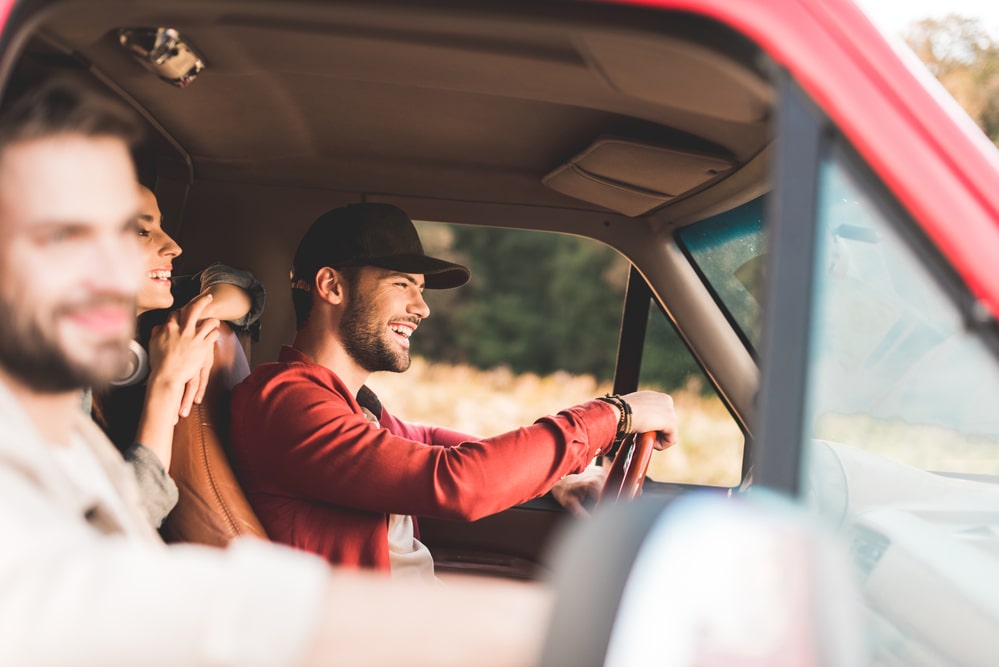 Planning the route ahead
Planning your route ahead is clever: you are well-prepared and still leave room for spontaneity. You want the surprises to be only good, right? To ensure that, follow these road trip planning essentials. Avoiding congested areasNobody enjoys sitting in traffic, especially when you're itching to hit the road for a trip with friends or family or rushing to an important meeting in the neighboring state. So play smart and plan your route ahead! Use the navigation apps to check for traffic—and see which roads and shortcuts can help you avoid congestion and keep your journey smooth and enjoyable. Plus, it's an essential road trip safety measure, as less time spent in heavy traffic means less risk of accidents. So, do your research, identify potential high-traffic areas, and find alternative routes if necessary. By doing so, you'll not only save time but also keep your road trip stress-free and safe!
Google Maps—well, the name speaks for itself
Waze—real-time driving directions and road conditions
Gas stations
Running out of fuel in the middle of nowhere is a road trip nightmare nobody wants to experience. That's why locating gas stations along your route is crucial. Use navigation apps like GasBuddy or PlugShare (for the EVs) to find gas stations and make a note of their locations, prices, and amenities. Remember, having too many gas station options is better than not enough, so be thorough in your planning and keep your road trip necessities list updated.
Choosing the optimal highways & tolls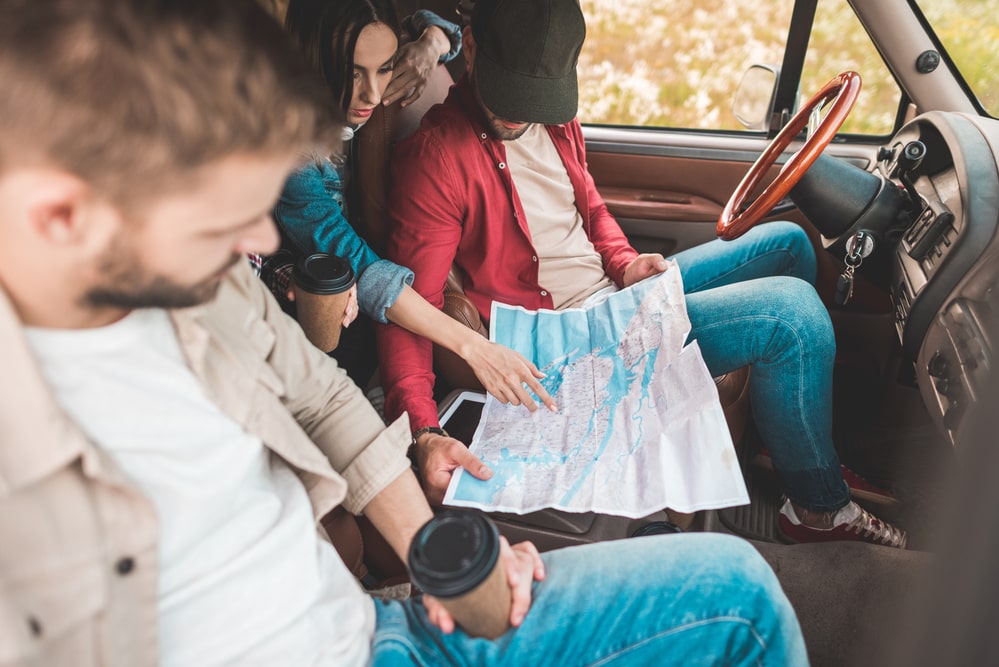 First of all, you need to decide on the balance of travel efficiency and scenery. Do you want to admire the views and sights or get there as fast as possible? Either way, selecting the best highways and toll roads will impact your road trip's efficiency (and enjoyment). 
Four factors to consider: 
Road conditions
Speed limits
Toll roads
Toll costs
Choosing less congested highways and toll roads with fewer traffic delays saves time and money. Yes, about that. Having some cash or a credit card on hand for tolls is a good idea, as not all toll roads accept electronic payments.
Resting areas, motels, cafes, and restaurants
A successful road trip isn't just about the journey; it's also about the stops you make along the way. Identifying resting areas, motels, cafes, and restaurants along your route will ensure you have plenty of places to take breaks, refuel, and spend the night. Whether you're craving a roadside diner experience, a luxurious night in a fancy hotel, or a simple stopover in an inexpensive motel: planning your route ahead allows you to get the best out of what the road has to offer. Here are a few sites that will help you.
Scenic stopsNo road trip is complete without making time for some jaw-dropping scenic stops along the way. From breathtaking viewpoints to quirky roadside attractions, planning scenic stops will undoubtedly make your road trip more enjoyable and memorable. Use these online resources to identify must-see sights along your route:
Vehicle safety checks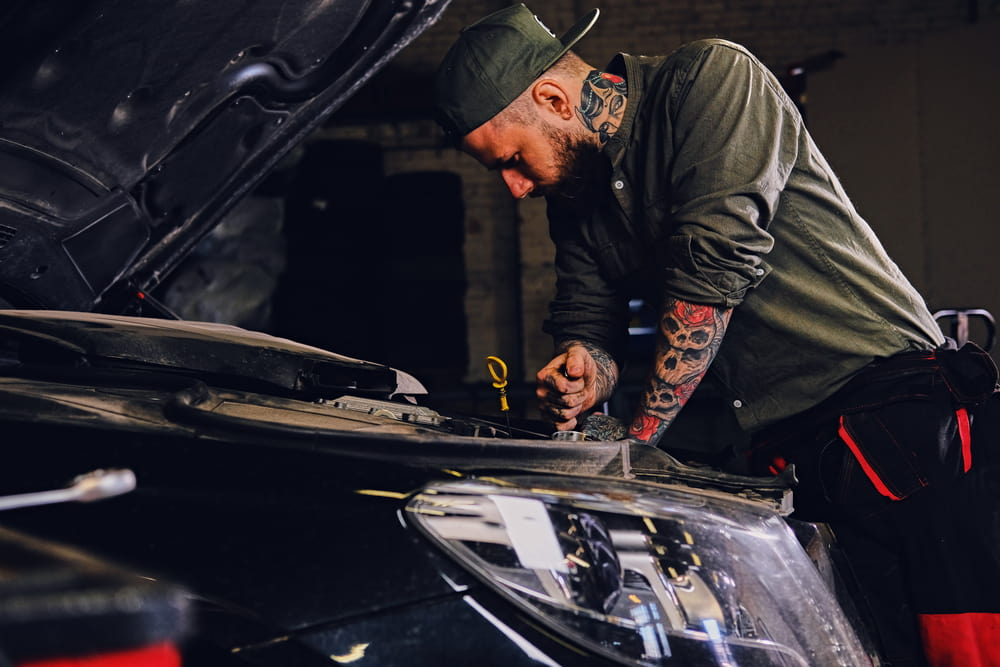 Before you take off, make sure your vehicle is in good condition—it will give you peace of mind and help prevent unexpected breakdowns and delays. You must check tire pressure, oil levels, fluids, filters, brakes, lights, etc. Let's examine the different aspects of vehicle safety checks more closely.
Tire pressure and spare tire
Before setting off, check your tire pressure using a tire pressure gauge and adjust it according to the manufacturer's recommendations. Don't forget to do the same for your spare tire, as you never know when you might need it. By ensuring your tires are properly inflated, you'll enjoy better fuel efficiency, improved handling, and reduced risk of blowouts or flat tires. So grab that tire pressure gauge and make sure your tires are ready for the journey ahead!
Oil levels, fluids, and filters
A well-maintained vehicle runs like a dream, and that means paying attention to oil levels, fluids, and filters. Before your road trip, check your oil level using the dipstick and top it off if necessary. Also, ensure your vehicle's fluids, such as coolant, brake fluid, and windshield washer fluid, are at the correct levels. Don't forget to inspect your air filter, fuel filter, and cabin air filter for any debris or signs of wear. By keeping your vehicle in top shape, you'll enjoy a smoother, safer, and more efficient road trip experience.
Brakes and lights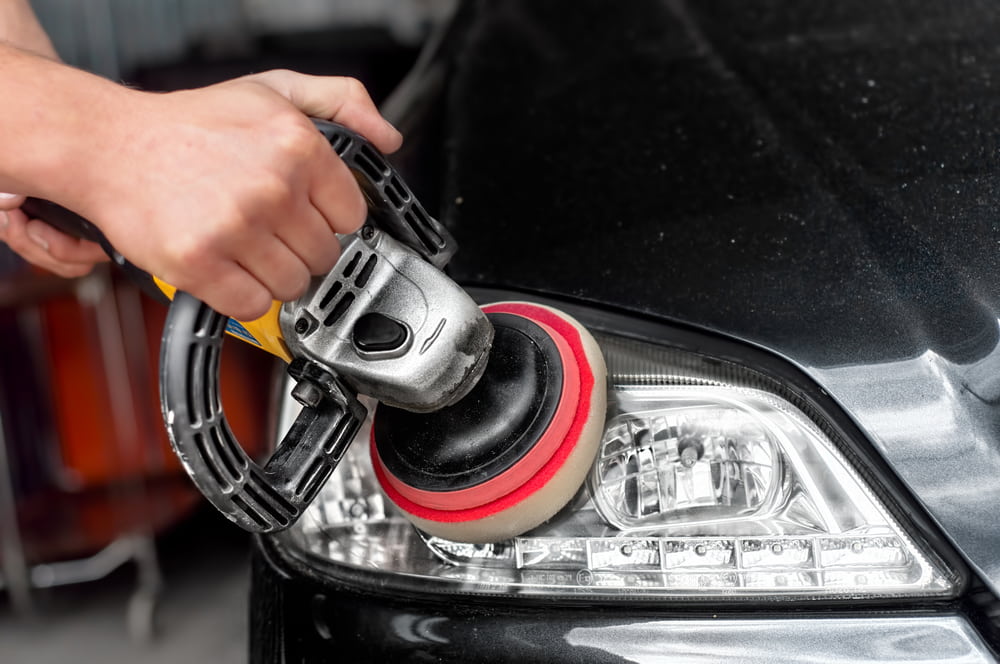 When it comes to road trip safety, brakes, and lights play a crucial role. Inspect your brakes for any wear or damage and ensure they function properly. Test all your vehicle's lights, including headlights, taillights, brake lights, and turn signals.
Windshield protection
It's always a good idea to either tint your windshield or apply a special waterproof solution, especially if you're heading to areas with moody weather. We recommend applying ceramic window tint—it has the ultimate insect- and water-repellant properties that will literally keep the rain away.
Roadside emergency kit essentials
A well-stocked roadside emergency kit is essential to help you handle unexpected situations—from flat tires to minor injuries. An ideal emergency kit should include basic tools for changing a tire, a first aid kit, reflective gear, and warning devices. Basic tools A flat can happen anytime, so you must carry the necessary tools for changing it, especially if the road is going to be long. These tools include a lug wrench, a car jack, and a spare tire or donut. Familiarize yourself with the process of changing a tire and practice using the tools so you're ready to tackle a flat tire should it occur during your road trip.
First aid kit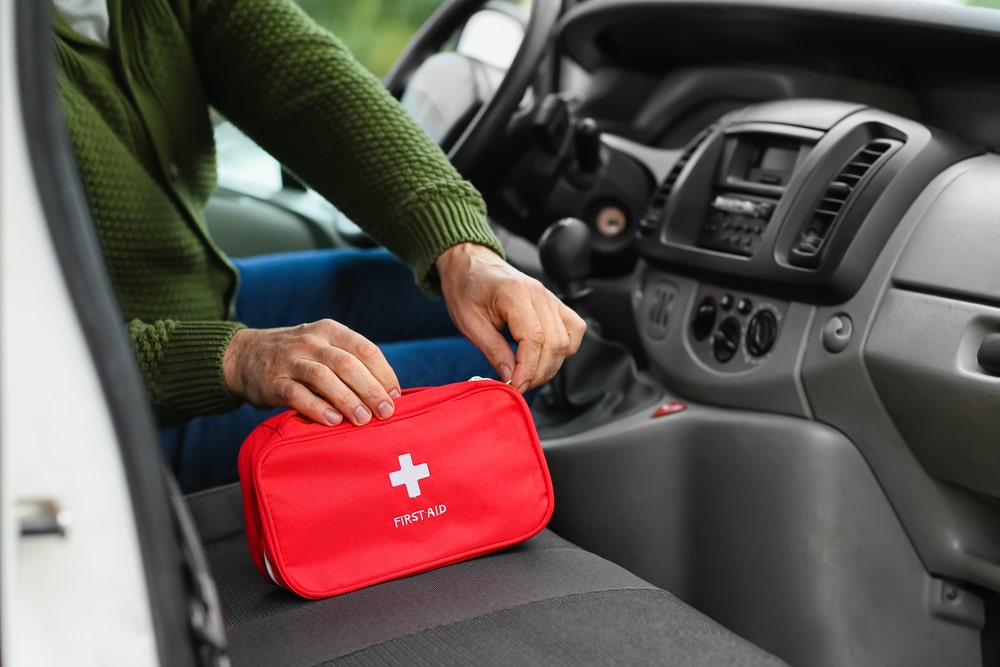 We live in a 3D world. Unfortunately, accidents and injuries happen, even on the most well-planned road trips. Every driver must include a first aid kit in the roadside emergency kit. A basic first aid kit should contain items such as adhesive bandages, gauze, antiseptic wipes, tweezers, and pain relievers. It's beneficial if you are familiar with the first aid procedures too! 
Reflective gear and warning devices
In case of a roadside emergency, it's vital to alert other drivers to your presence, especially in low-visibility situations. Reflective gear and warning devices, such as a reflective safety vest, emergency roadside triangles, and reflective warning flares, should be included in your emergency kit. These items will help make your vehicle more visible, reducing the risk of accidents and keeping you and your passengers safe.
Driving safety tips
Now that your vehicle is ready and your emergency kit is packed let's talk about driving safety tips. 
Rest breaks and sleep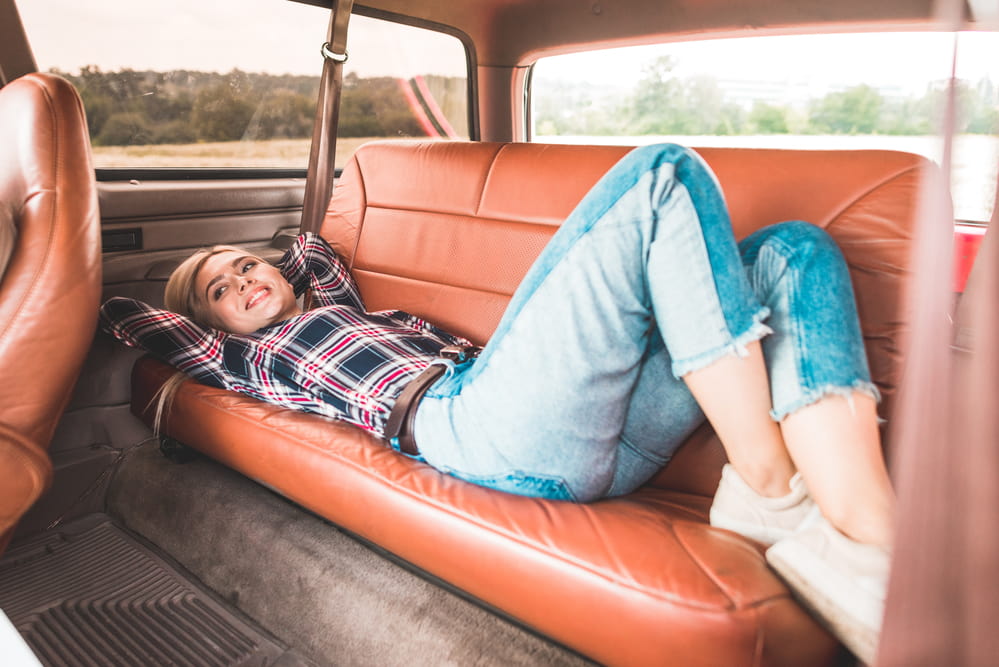 Driving long hours can lead to fatigue, decreased focus, and slower reaction times. To stay alert and maintain safe driving practices, schedule regular rest breaks and get enough sleep. Aim to take a break every two hours for at least 15 minutes, and make sure to get a good night's sleep before hitting the road. By prioritizing rest and sleep, you'll be more focused, alert, and ready to tackle whatever the road has in store.
Sharing driving responsibilities
Sharing driving responsibilities is a great way to reduce driver fatigue and increase road trip safety. By taking turns behind the wheel. You'll ensure that everyone gets a chance to rest and recharge, reducing the risk of drowsy driving. Additionally, sharing driving duties can make the journey more enjoyable, as everyone can take in the sights and scenery. So, don't be the sole driver on your road trip; share the responsibility and make your journey safer and more enjoyable for everyone involved.
Avoiding distractions
Distracted driving is a leading cause of accidents, and it's essential to minimize distractions to maintain focus on the road. This means avoiding activities like using your phone, eating, or fiddling with the radio while driving. If you need to make a call, send a text, or adjust your GPS, pull over to a safe location and take care of these tasks while stationary. By staying focused on the road and avoiding distractions, you'll greatly reduce the risk of accidents and ensure the safety of yourself and others on the road.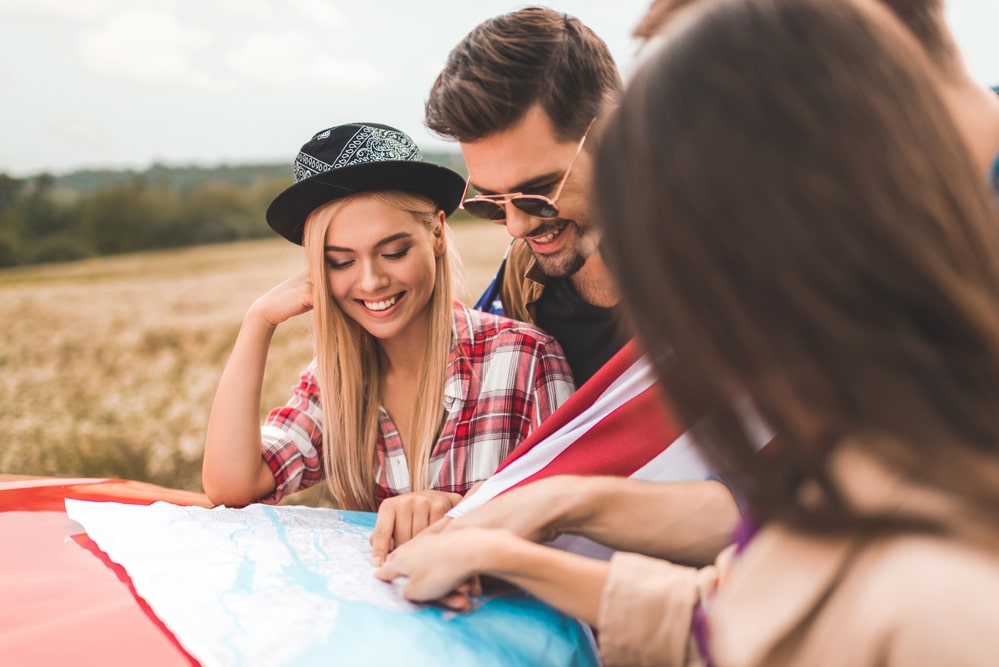 Staying connected and navigating safely are essential aspects of any successful road trip. With the help of offline maps, GPS devices, emergency contact numbers, signal boosters, and chargers, you can always know where you're going and reach out for help if needed. Offline maps and GPS devicesIn areas with limited or no cell service, you'll need to rely on offline maps, paper maps, and GPS devices to navigate. These tools allow you to access maps and directions even when you're off the grid, ensuring you never lose your way. Before your trip, download maps of your route and any areas where you anticipate limited cell coverage. Also, consider investing in a dedicated GPS device as a backup option. With these tools, you'll be prepared to confidently navigate any remote or low-service area on your road trip.
Emergency contact numbers
In case of an emergency, it's essential to have a list of contact numbers readily available. This list should include local emergency services, roadside assistance providers, and personal emergency contacts. Keep a physical copy of these numbers in your vehicle and store them in your phone for easy access.
Signal boosters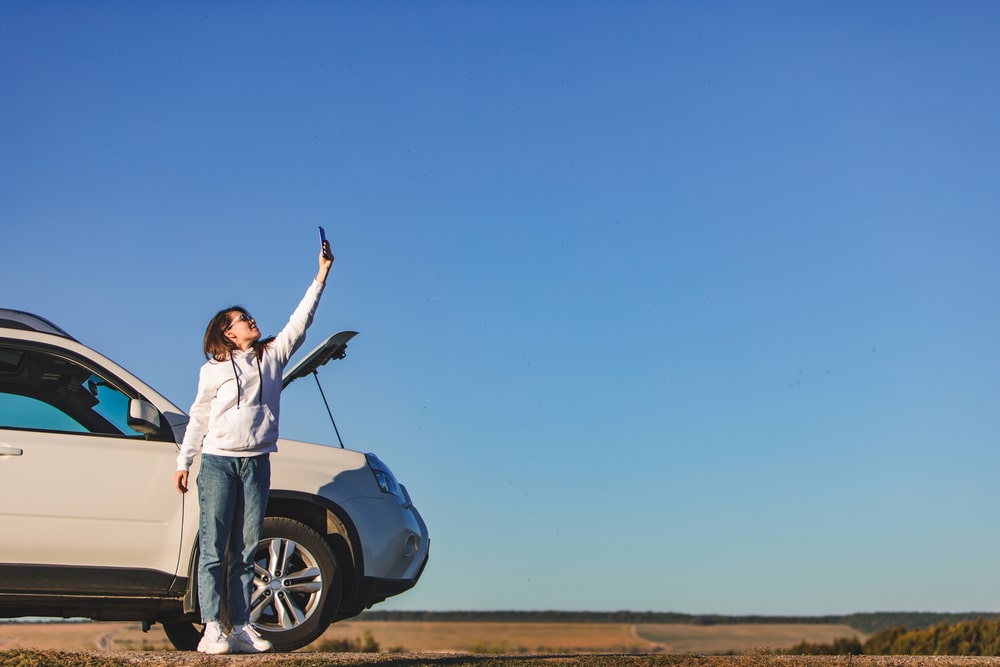 A signal booster can be a lifesaver in remote areas with weak or nonexistent cell reception. These devices amplify the signal of your mobile device, allowing you to make calls and access data even in low-service areas. If you plan to travel through remote regions during your road trip, consider investing in a signal booster to stay connected and ensure you can call for help.
Chargers
Keeping your electronic devices charged is crucial for navigation, communication, and entertainment during your road trip. Be sure to bring chargers for your phone, GPS device, and any other electronics you plan to use on your journey. Consider investing in a car charger or portable power bank to ensure your devices stay charged even when you're on the go.
Personal safety essentials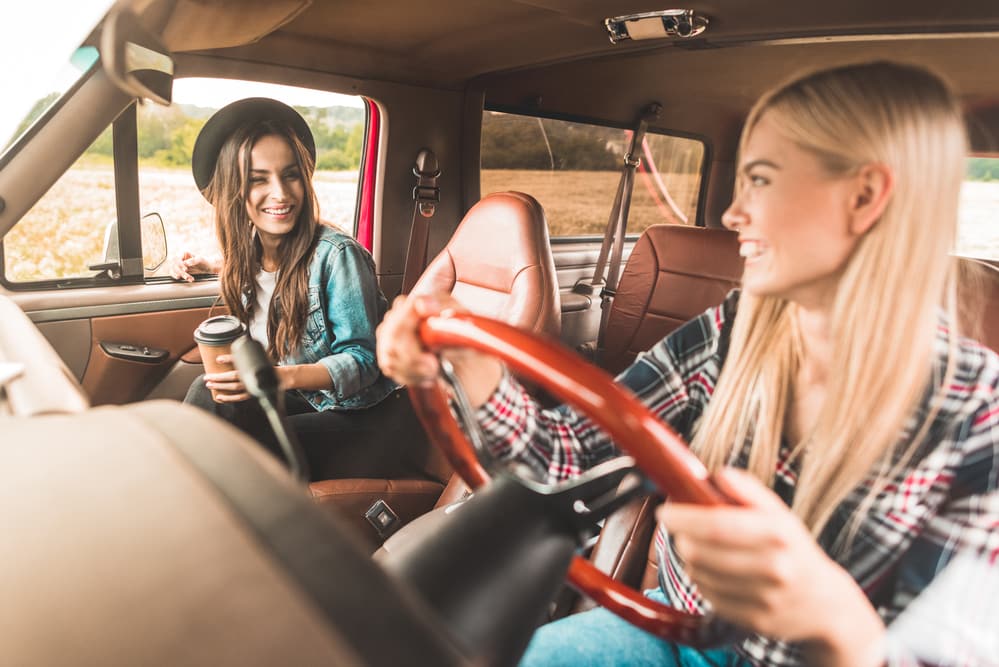 Your personal comfort and safety are just as important as your vehicle and route planning. Pack snacks, water, and weather-appropriate clothing. Don't forget to use our road trip checklist to cover all essentials!
Snacks and water
Staying nourished and hydrated is crucial for maintaining energy and focus during a road trip. Pack plenty of snacks and water to keep you going throughout your journey. Choose healthy, non-perishable snacks that provide sustained energy, such as nuts, seeds, and dried fruit. Bring a reusable water bottle or purchase bottled water to ensure you always have a refreshing drink on hand. By prioritizing your nutrition and hydration, you'll be better equipped to handle the demands of your road trip and enjoy every mile of the journey.
Weather-appropriate clothing
By packing weather-appropriate clothing, you'll be prepared for whatever Mother Nature has in store for your road trip.
Before planning a trip, make sure to check the weather forecast
Pack items based on the forecast of your route and destinations
Don't forget to include rain gear in case you encounter some unexpected showers.
Personal protection items
While road trips are generally safe and enjoyable experiences, it's always a good idea to be prepared for the unexpected. Consider packing personal protection items like pepper spray or a whistle for added safety during your journey. These items can provide an additional layer of security in an emergency or encounter an unfamiliar situation.
Travel insurance and important documents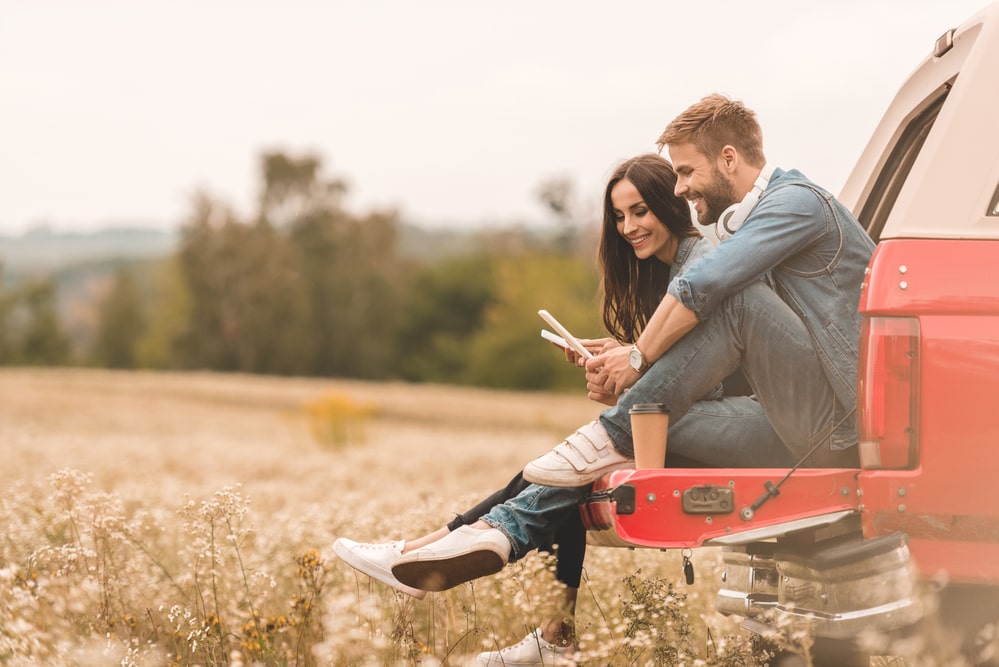 Travel insurance and important documents, such as your driver's license, vehicle registration, and car insurance, are essential for ensuring a hassle-free road trip. Let's explore the specifics.
Travel insurance
Travel insurance covers medical expenses, lost luggage, and other unexpected costs that may arise during a road trip. While not mandatory, purchasing travel insurance can offer added peace of mind and financial protection in emergencies. Read the policy carefully to ensure it covers the type of travel and activities you plan to do, and compare different policies to find the best coverage for your needs. Important documents.
Before you take off, make sure you got all the important documents—your driver's license, vehicle registration, and proof of insurance—in a safe and easily accessible location (your glove compartment or a secure travel wallet). Now, when you're really packed and ready, all there's left to say is "Have a safe ride!"
Frequently Asked Questions
How to drive for 12 hours straight?

Take turns driving, get plenty of sleep before the drive, bring healthy snacks and stay hydrated along the way, plan rest stops, chew gum for energy, and keep passengers entertained.
What do I need for a 20-hour road trip?

For an enjoyable 20-hour road trip, you'll need signal boosters or paper maps (in case of limited or no cell service), chargers, spare money, a first aid kit, tools for changing a wheel and a spare, bug spray, toilet rolls, fire extinguisher, blankets for your passengers, snacks and large water bottles.
How can I ensure my vehicle is in good condition before a road trip?

Make sure to check your tire pressure, oil levels, fluids, filters, brakes, and lights before you hit the road. Taking the time to check your vehicle before you leave quickly can save you time and money in the long run. It's a small investment that can pay off in the end.
What safety measures should I follow while driving on a road trip?

Stay alert and focused on the road by taking regular breaks, sharing driving responsibilities, and avoiding distractions for a safe and enjoyable road trip! Taking regular breaks, sharing driving responsibilities, and avoiding distractions are all important for a safe and enjoyable road trip. Make sure to stay alert and focused on the road to ensure a successful journey.
How can I stay connected and navigate safely during my road trip?

Stay safe and connected during your road trip by using offline maps and GPS devices, keeping emergency contact numbers handy, and possibly investing in a signal booster to ensure cell phone reception in remote areas. Having the right tools and information can make all the difference in staying safe and connected on the road. Offline maps and GPS devices can help you find your way, while emergency contact numbers can provide peace of mind. Additionally, investing in a signal booster can help ensure that your signal is boosted.