The automotive industry has come a long way from the gas guzzlers of the past. In recent years the industry has seen a huge increase in overall fuel efficiency, as well as the number of plug-in hybrid vehicles and, of course, electric vehicles (known as EVs). In fact, there are so many green cars out this year that it has been hard to narrow down the field to a select few. In this article, you'll learn about some of the best green cars, from favorites like Tesla to relative newcomers like Rivian.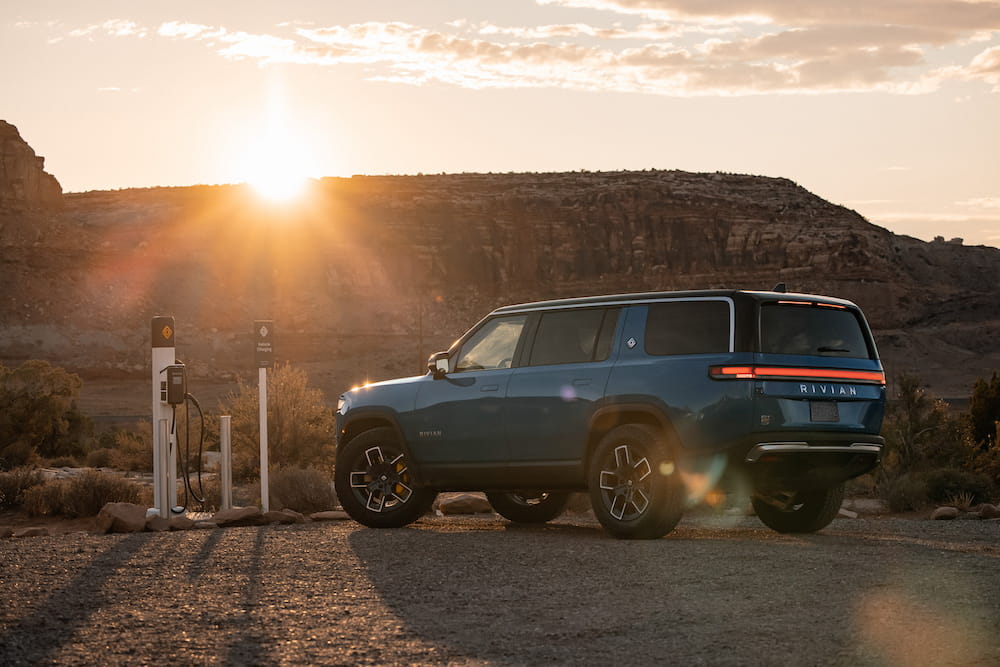 The evolution of the green car industry
Even a decade ago, this might have been a very short list, with only a handful of all-electric vehicles and hybrids considered green. However, the green car market 2023 features a surprising number of electric cars, hybrids, and fuel-efficient vehicles, enough that we can compare them and select some truly amazing vehicles from the bunch. Since there are so many models and types of green cars, it can be hard to select criteria for what makes a green car "the best." Therefore, we've selected some of the best in each vehicle class.
The top-3 trucks and SUVs in 2023
1. Ford F 150 Lightning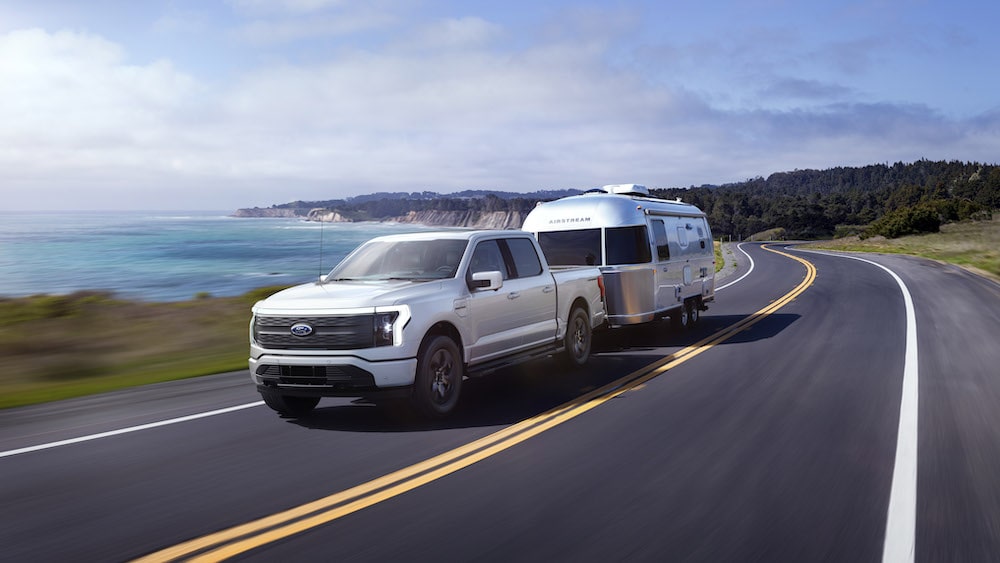 The "regular" Ford F Series has been America's best-selling vehicle for a long time, and now you can get that same great automobile but with zero tailpipe emissions. Ford unveiled the F150 Lightning in 2021 and hasn't looked back. The all-electric vehicle comes in four versions or trims; Pro, XLT, Lariat, and Platinum. The Pro starts at an MSRP of $49,995.
Interior
The interior of the Lightning is spacious and, dare I say, comfortable. The interior is not the selling point of this vehicle, but it can seat five and still have plenty of room for all your gear. A nice added feature of the Lightning is the front trunk, which they call the "frunk," which comes equipped with four 120-volt outlets to charge anything you might need. Top all this off with a massive 15″ digital display to give you a truly comfortable ride.
Exterior
The exterior of the Ford F150 Lightning is basically unchanged from the F150s of the past. The F150 is a true truck, though not an absolute unit like the 250, and Ford claims it will still fit in most garages at just under 20 ft (232.7″). While it may not be as aerodynamic or slick as some sports cars, its powerful and capable look has become ubiquitous over the last few decades.
Specs
Each trim comes standard with an all-wheel drive and two electric motors, but there are two different batteries to choose from; standard and extended. The standard battery pack generated a mind-boggling 452 horsepower and an estimated driving range of 240 miles. When you upgrade to the extended battery, this becomes 580 horsepower and about 300-320 miles of range. No truck review would be complete if we didn't talk about towing, and the Lightning more than pulls its weight here but with one caveat. It has 775 foot-pounds of towing capability, depending on battery performance, which is impressive considering the size and weight of this vehicle. The caveat is that this drains the battery fairly quickly, so if you plan to do a lot of towing, you should spring for the extended battery.
The Ford F 150 Lightning is our only pickup truck on the list and for a good reason. There are a few electric vehicles that also happen to be pickup trucks. The reason for this is obvious. It takes a lot of juice to provide the electric power that trucks need for all that towing and payload capacity. Well, the Ford F 150 Lightning delivers.
2. Cadillac Lyric SUV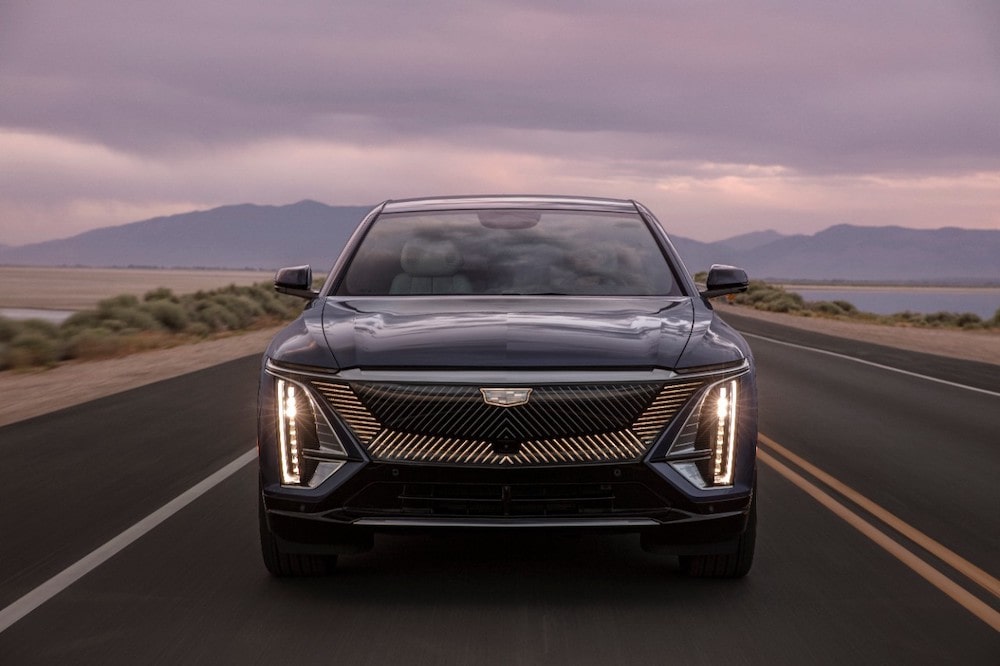 This is Cadillac's first electric SUV, and it has all the trademarks of a Cadillac: luxury, a beautiful interior, and a smooth, comfortable ride. The Cadillac Lyriq comes in a rear-wheel drive and an all-wheel drive version, with a starting MSRP of $59,900.
Interior
The interior of the Cadillac Lyriq is the epitome of class. Not only is it spacious and elegant, but it also has some handy features. The Lyriq features a curved digital display to make everything easier to see for the driver. Its cargo space, 28 cubic feet (and 60.8 cubic feet with the rear seats folded down), is on par with most other electric cars. Unfortunately, there is no front trunk, or "frunk," to help you stow those extra items.
Exterior
The Cadillac Lyriq has a stylish and futuristic look thanks to a digital grill and exterior lighting like you've never seen before. As you approach, the lights perform a choreographed… (dance?) like the electric vehicle equivalent of wagging its tail. Another nice feature of the exterior is the sleek glass roof. Unfortunately, it does not open up, but it provides ample natural light into the cabin and comes with a shade for those who are sunlight intolerant.
Specs
The Cadillac Lyriq has a single-motor rear-wheel drive model and an all-wheel drive model with dual electric motors. The rear-wheel-drive model offers an adequate 340 horsepower and 312 miles of range on a full charge. However, consider upgrading to dual electric motors, which offer 500 horsepower and only a slightly diminished maximum range of 307 miles. One of the downsides to this green car is that it's not the best driver. It performs admirably on well-paved roads but gets a bit bumpy when the roadway degrades slightly. It's not going to be your off-roading vehicle of choice, but it will more than get the job done for that camping trip you've got coming up.
3. Chevrolet Bolt EUV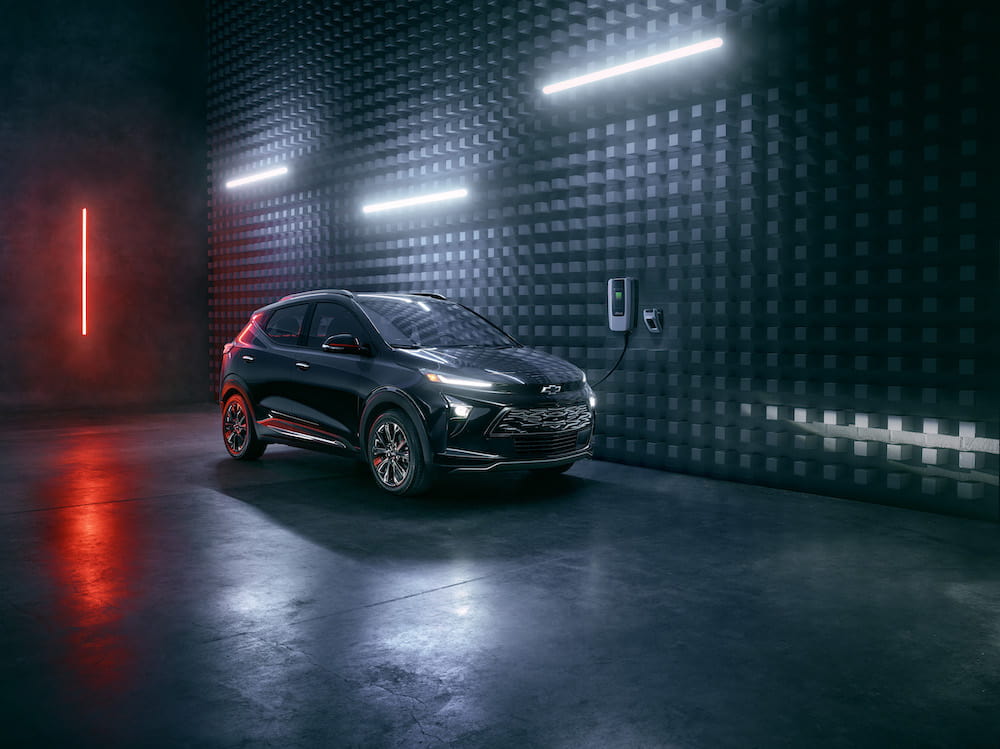 With a base model starting at just $27,800, this electric vehicle (or electric utility vehicle (EUV), to be more precise) is the best bang for your buck when it comes to electric vehicles. Don't confuse the EUV (Electric Utility Vehicle) with its little brother, the Bolt EV, because they couldn't be more different. This is one of the best electric vehicles if you value off-road capability and plenty of passenger and cargo space while still offering a comfortable ride.
Interior
The Bolt EUV comfortably seats five with 39.1 inches of legroom in the rear seats. The interior is comfortable and spacious, if not exactly tall. The dashboard comes with a 10.2-inch touchscreen display. With the rear seats folded down, the trunk has 56.9 cubic feet of space to handle almost anything you want to bring with you.
Exterior
One of the possible downsides of the Bolt EUV is its standard styling. It's not going to turn heads or inspire people with its looks, but it also won't stick out like a sore thumb. In short, it looks like most SUVs.
Specs
When it comes to battery power, this electric car has a driving range of 247 miles. Not bad for an electric SUV, but certainly not the best. Also, despite being an electric SUV, the Chevrolet Bolt does not come with all-wheel drive. Serious off-road enthusiasts will have to temper their expectations. It comes with top-of-the-line technology, such as Super Cruise, for hands-free driving on compatible roads. This green car also includes automatic emergency braking for enhanced safety and lane-centering technology to help you handle those aggressive curves. Overall, the Bolt EUV is a good car at an amazing value. Plus, there are a few perks that could sweeten the pot: You may be eligible to receive the $7,500 Clean Vehicle Federal Tax Credit, and Chevy may (or may not) install a 240-volt charging outlet in your home so you don't have to drive around looking for a charging station. All in all, it's hard to argue with the value that this electric vehicle offers.
The Top-2 compacts and sedans in 2023
1. Hyundai Ioniq 6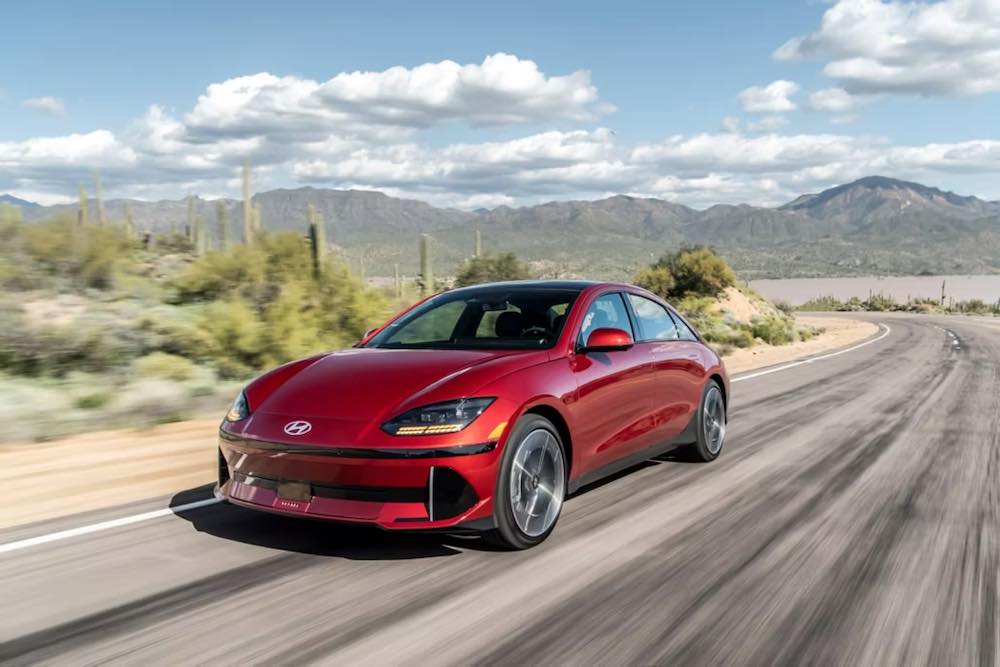 For years the Tesla Model 3 has been the gold standard of electric vehicles or electric sedans. But if there is one electric vehicle that could dethrone the Model 3, it is the Hyundai Ioniq 6. With a starting MSRP of $41,600, you get what you pay for with this fully electric car. There's a reason the Ioniq 6 has won so many awards, such as the 2023 World Car of the Year award and the 2023 World Electric Vehicle award.
Interior
The interior of this car's minimalist design makes it feel extra spacious, and the rear seats fold down to give extra storage space. Another nice feature of the cabin is just how quiet it is. EVs have a tendency to seem loud because there is no engine noise to drown out the sound of the tires on the road, but Hyundai has gone to great lengths to install multiple layers of sound-deadening material so that you have a comfortable ride.
Exterior
This car's sleek and stylish appearance is one of the best things. This car looks like the future, and it's sure to turn some heads. It doesn't come in many colors currently, but it doesn't need to. The rear spoiler gives it a sporty, Porsch-like appearance.
Specs
Let's talk about the driving range for a moment; if you opt for the 77.4 kWh battery pack, this puppy has a maximum range of 361 miles. Remember, this is only for the SE Long Range option, which is 3 miles further than the Tesla Model 3 (358 miles). Also, the Ioniq 6 is one o the fastest-charging electric vehicles on the market; depending on the charging station, it can go from 10% to 80% charged in as little as 18 minutes. Plus, this electric car comes stacked with modern safety features such as blind spot collision avoidance, Smart Cruise Control which will sense when a car is in front of you and slow down accordingly, a surround-view monitor which provides a 360-degree bird's eye view of the car, and much more. This has got to be one of the best electric cars on the road today. Never mind how sleek and stylish it looks. This is based on performance alone. This green car has many options, so don't fear upgrading to your heart's content. One of its downsides is its limited quantities. But that should come as no surprise, considering what an absolute gem of a car it is.
2. BMW i4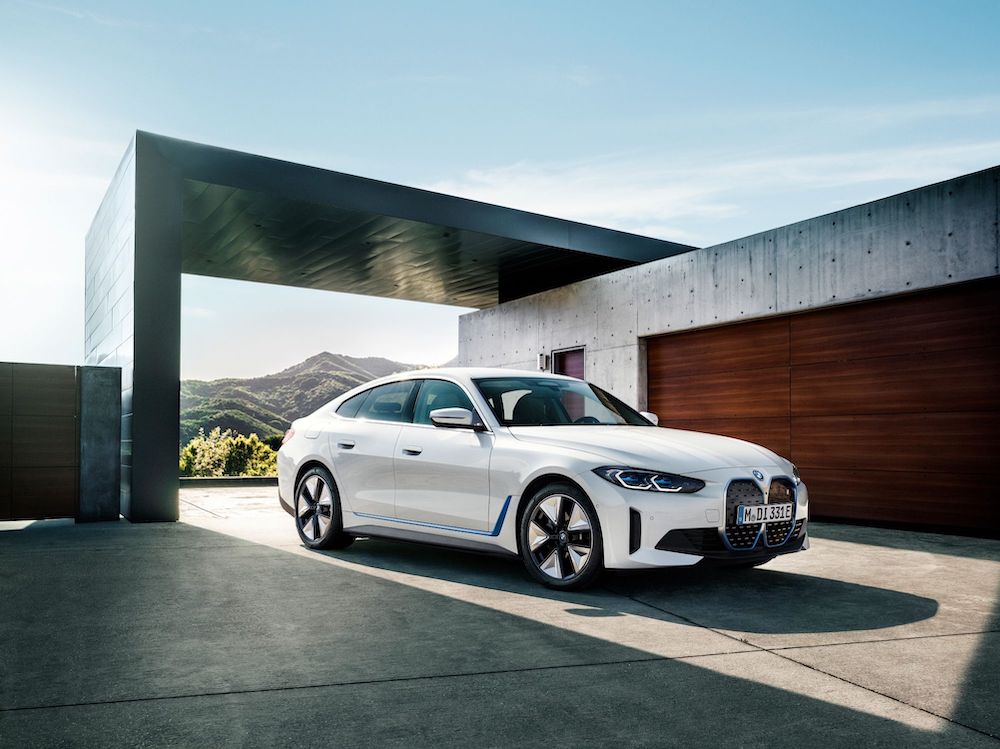 BMW has been expanding its fleet of electric cars for the past several years, and the i4 is one of its newer offerings. The BMW i4 comes in three trims, the first two offering rear-wheel drive and the last one, the M50, with all-wheel drive. A starting MSRP of $52,995 is not cheap, but you certainly get what you pay for.
Interior
Make no mistake; this is a luxury electric vehicle, and the interior proves that. With options for rose gold trim and white leather seats, you know you've made it. Plus, there is a 14.9-inch touchscreen and a 12.3-inch digital display. Actually, these two are combined seamlessly (literally) in one huge, curved display system. While the BMW i4 looks like a coupe, it still has some trunk space, but not much. It's not that kind of car.
Exterior
The i4 comes in a plethora of color options, including sunset orange, San Remo Green, and Aventurin Red. Both the rear-wheel drive options have 18″ wheels standard but can be upgraded to 19″. The M50 comes with either 19 or 20-inch options. As for the body of the vehicle, well, it looks fast, aggressive, and expensive. It's sure to turn heads, especially in some of those more striking colors.
Specs
The base model, the eDrive35, offers 281 horsepower and 260 miles of range, but that improves to 300 miles of driving range for the eDrive40. While the 35 goes from 0 to 60 in a respectable 5.8 seconds, the M50 gets it done in an exciting 3.3 seconds. This car certainly has enough umph despite its heavy weight.There is a reason BMW is known as "the ultimate driving machine," and this Ev certainly does not stray from that path. The powerful chassis delivers the great handling and performance you would expect from a BMW.
The Top-3 Hybrids in 2023
1. Toyota Prius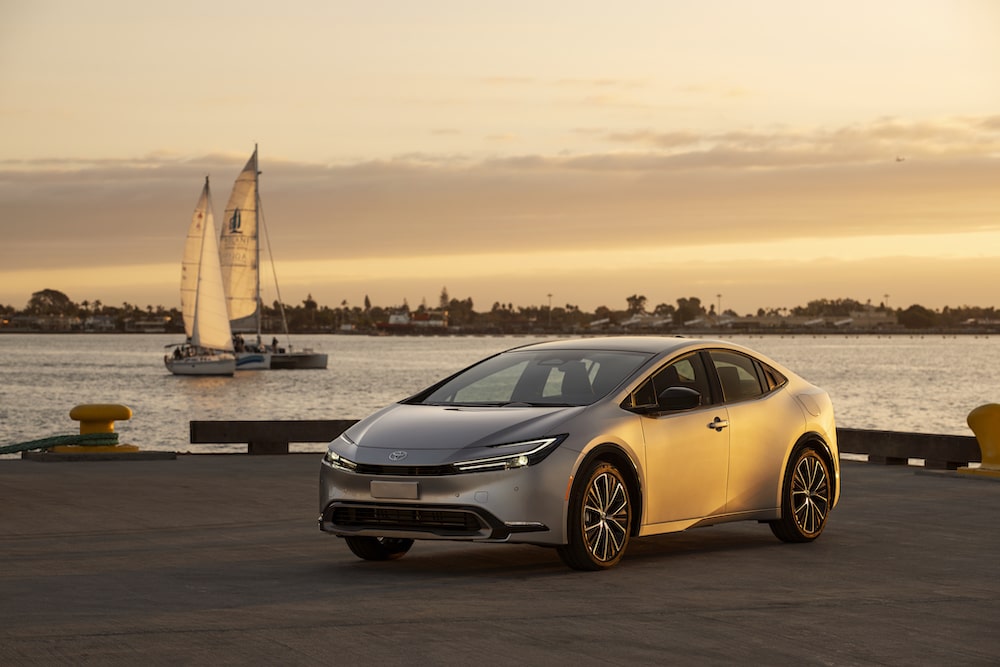 The Toyota Prius has been a mainstay of green car lists for years already, but Toyota has made some serious upgrades to the 5th generation of the hybrid for 2023. This isn't your grandmother's Toyota Prius.
Interior
In some ways, the interior of this vehicle is a letdown, as it has less passenger and cargo space than previous models. For a lightweight compact, this plug-in hybrid still has a decent amount of cargo space (20.3 cubic feet), and the rear seats fold down to help you fit those large items. While the base model only offers an 8-inch digital display, the more premium trims come with a beefed-up 12.3-inch display screen.
Exterior
First of all, this new model finally looks like a car you'd want to drive; sleek, smooth, and fast. It has the same basic shape as previous models but a much cooler overall package. The base model comes with 17″ wheels, but the XLE and Limited trims comes with 19″ alloy wheels specifically designed for this vehicle. As an added bonus, the more premium trims come with solar panels on the roof to help charge the battery and reduce the electrical cost of air conditioning, charging ports, etc.
Specs
But the new Prius is more than just a pretty face. It also boasts an impressive 196 horsepower (in the all-wheel drive model) and a combined 57 mpg. That is some serious fuel efficiency. When it comes time to charge your plug-in hybrid, you can use any standard electrical outlet. This means you can get all the electric power you need while sleeping at night. It also comes with a hands-free parking system for all those tight spaces.If you're not quite ready to make the leap to a fully electric car, then a hybrid might help ease you into the field, and there's no better vehicle to do it with than the Toyota Prius. It was, after all, the world's first hybrid vehicle, inspiring an entirely new class of vehicles, and remains an industry leader. Perhaps the best thing about the model year 2023 Toyota Prius is its extremely affordable starting price (MSRP of $27,450).
2. Honda CR-V Hybrid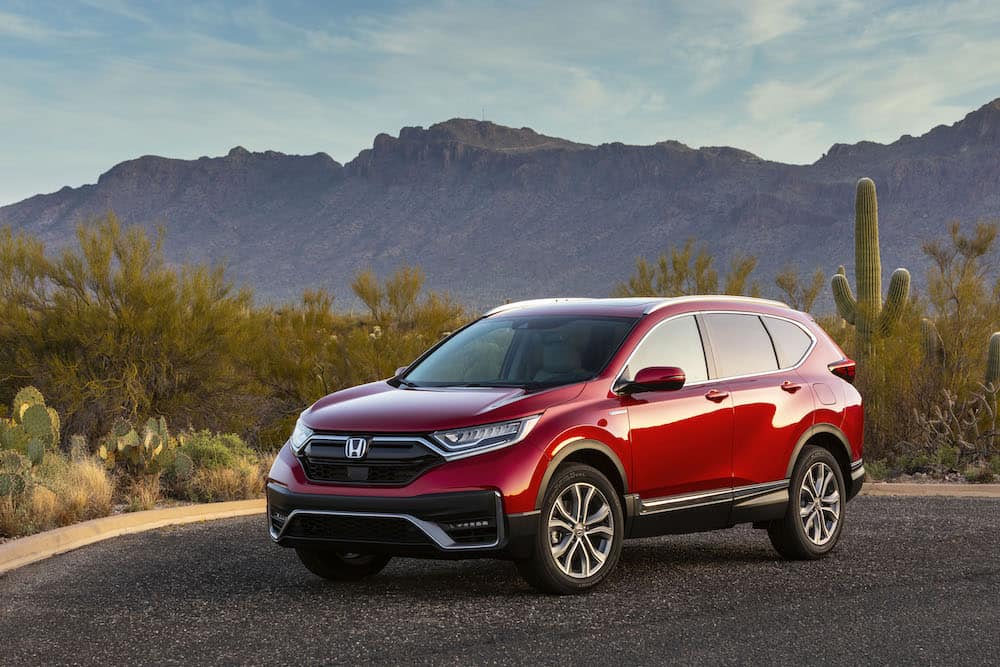 There are many reasons why the Honda CR-V Hybrid was voted one of Car and Driver's 10 Best Trucks and SUVs for 2023. From its stylish, more agile-looking exterior to its spacious interior with amazing sight lines and added cargo space, the 6th generation of the Honda CR-V is a major upgrade from its predecessors. This hybrid car comes in five different versions, or trims, with the base model (called the LX) starting at $28,410 MSRP. On the opposite end of the spectrum, the Sport Touring Hybrid model has a starting MSRP of $39,100.
Interior
The interior of the CR-V hybrid is surprisingly spacious, with 39.3 cubic feet of cargo space, which becomes 76.5 cubic feet with the second row folded down. Two rows of seating fit five comfortably, with heated seating available for the front row. It comes with a 7- or 9-inch display screen.
Exterior
The 2023 CR-V is a few inches longer and wider than previous models, and the overall impression is a slightly more powerful and capable SUV. While the CR-V has never been a particularly flashy car, it's far from ugly. The Sport Touring trim offers 19″ wheels, adding to the overall appearance.
Specs
Yes, that's right, the Honda CR-V that we all know and love now comes in a hybrid version. It is not a plug-in hybrid but charges itself while driving and braking, which is one less thing to worry about. Thanks to its hybrid powertrain, the Cr-V hybrid has 204 horsepower and an mpg rating of 40 "City" and 34 "Highway."The CR-V has been the benchmark for families thanks to its intuitive safety features. The Collision Mitigation Braking System detects objects like cars or pedestrians in front of you and can alert you and assist you with braking to help avoid collisions. Other features, such as the Lane Keeping Assist System and the Adaptive Cruise Control, come standard. The SUV and compact SUV market is extremely competitive. Translation: there are a lot of good SUVs out there. But the Honda CR-V has been a crowd favorite for a long time, and for a good reason. Expect more of the same from the hybrid model. While it may not be the flashiest or the fastest, it's still one of the best.
3. Hyundai Sonata Hybrid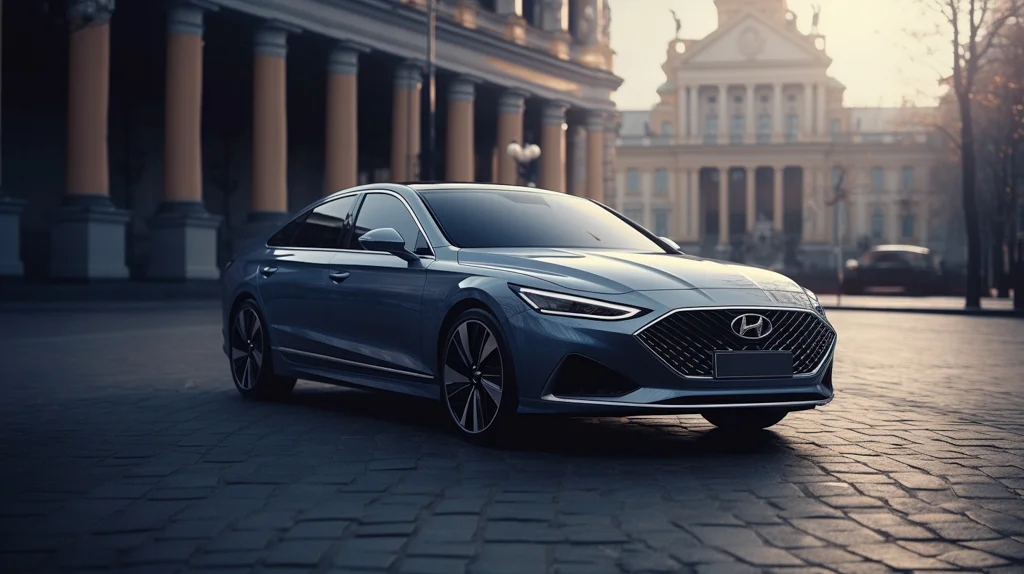 The Hyundai Sonata Hybrid's design is certainly eye-catching, but plenty is also going on under the hood. With a starting MSRP of $28,450, the Hyundai Sonata is certainly one of the more affordable cars on our list, but it doesn't drive like it.
Interior
This green car comes jam-packed with technology. One exciting new feature is the digital key, which allows drivers to unlock and start the car via Hyundai's app on their smartphone. Not to mention you'll never have to worry about parking again as the Sonata comes with Remote Smart Parking Assist technology for getting into and out of parking spots. Regarding cargo space, it offers about what you'd expect from a sedan with 16 cubic feet of cargo space and 60/40 foldable rear seats to offer more cargo space when needed. The console features an 8-inch touch screen for things like air conditioning, radio, etc., and a 12.3-inch digital gauge cluster.
Exterior
The Sonata has an aerodynamic and sporty look which can be tough to pull off for a mid-size sedan. All three trims come with 17″ alloy wheels and a limited but fairly standard set of colors: black, white, gray, other gray, carbon blue, silver, and red.
Specs
The turbocharged 1.6-liter engine means that this car certainly has some zip. The Sonata Hybrid comes in three versions, or trims, ranging from 47-52 combined mpg. This hybrid shifts some of the workload from the gas-powered engine to the electric motor, which helps improve the gas mileage. One thing that Sonata drivers are sure to love is that this hybrid requires no charging. That's right. The battery recharges as you drive. Even the friction generated from the brakes gets converted into electric power stored in the battery. The battery also comes with a ten-year, 100,000-mile warranty. The Sonata is a lot like Sonatas of the past, which is a good thing: spacious and elegant interiors, a comfortable if not sporty ride, and a price tag that won't leave you destitute. It doesn't handle or accelerate like some other cars in its class, but outstanding safety features like the Blind Spot View Monitor more than make up for it.
Honorable mention
Rivian R1S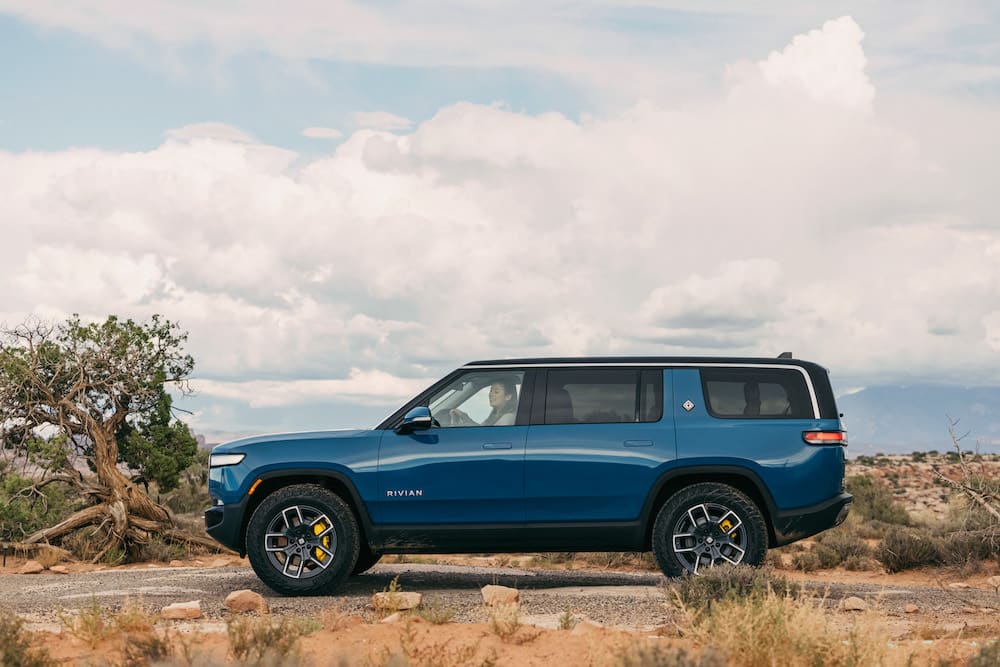 While Rivian may be a relative newcomer to the automotive industry, the R1S is one of the truly capable electric SUVs on the market today. This green car can do it all with up to 15 inches of ground clearance and a full range of drive modes (such as all-terrain, rock crawl, soft sand, sport, and towing). It rivals many top-of-the-line gas-powered off-road vehicles. The R1S comes with several options, most notably in the number of electric motors. The dual motor system is convenient for the R1S to provide capable all-wheel drive. It even comes with a quad motor all-wheel drive option, which gives you the most torque (908 lbs), horsepower (835), and drive modes.
Three different battery pack sizes give the R1S a maximum driving range of 260-390 miles on a single charge. It features great on-road handling, too, with impressive acceleration, going from 0-60 in as little as 3 seconds. We can't talk about this car without talking about space and comfort. Inside are three rows of seats capable of seating seven people in its comfortable and upscale interior. It's not just made for fitting people, either.
The R1S has a staggering 104 cubic feet of cargo space thanks to a sneaky yet sizeable front trunk. The second and third row seats also fold down for extra space. While the Rivian R1S is the most expensive car on our list, starting MSRP of $78,000 (and the larger battery pack will cost you an extra $6,000), it is one of your best options for an electric vehicle with true off-road capabilities.
Summary
Green cars are no longer a commendable but ultimately laughable class of vehicles. With top-of-the-line car manufacturers like BMW and Cadillac getting into the game, it's a sure sign that EVs are here to stay. And lucky for us and the environment, they just keep improving.
Frequently Asked Questions
Why do electric cars weigh so much?

The simple answer to this question is the battery. Electric vehicles obviously need a very large battery to store the electrical energy needed to power the vehicle. On average, EV batteries weigh anywhere from 1,000 to 2,000 lbs.
What are flexible fuel and alternative fuel vehicles?

FFVs or AFVs are vehicles that can run on gasoline and/or gasoline-ethanol blends. Yes, that's right, ethanol, otherwise known as alcohol, but you probably don't want to drink this kind. Ethanol is a biofuel made from corn, and when it is mixed with gasoline, it creates a viable fuel for combustion engines. Actually, more than 27 million cars on the road in the US today are FFVs.
Are all hybrids plug-in hybrids?

No. It's a common misconception that just because a car has a battery, it needs to be charged with a plug. However, many hybrids will use energy generated from the alternator to charge the battery in the same way that all combustion cars charge their own batteries. Due to the much larger size and power capability of a hybrid battery, some hybrids also use "regenerative braking," or the energy from the car's excess kinetic energy, to charge their battery as well.